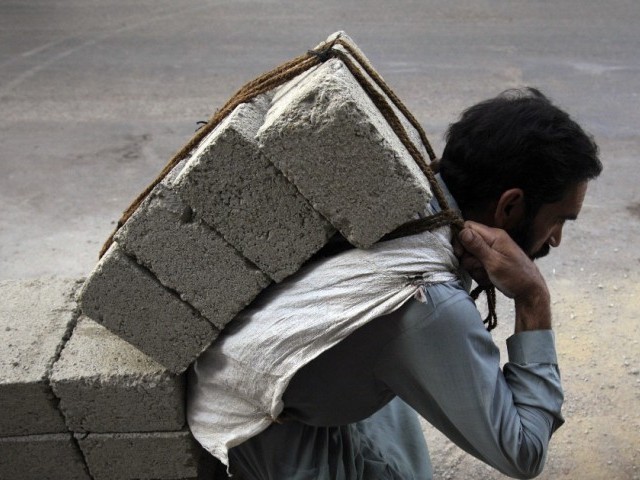 ---
MULTAN: Harsh contracts and high-interest rate loans are used by kiln owners to exploit labourers, speakers at a seminar on bonded labour said on Monday.

The seminar titled: Consultation with Policymakers on Existing Laws to Stop Bonded Labour was held at a local hotel.

Justice and Peace Commission (JPC) Executive Secretary Hyacinth Peter said that most kiln owners did not maintain record of debt repayments. "Non-payment of the minimum wage exacerbates bondage and compels families to put their children to work as well," he said. "Upon death or permanent disability of a worker, the debt is transferred to other family members, including children. Workers who attempt to leave the kilns are forced to return to continue paying off the debt. The government should announce a policy on bonded labour. The Punjab Employees Social Security Institution should issue kiln workers social security cards to provide them benefits," he said.

"According to the 2014 Global Slavery Index, Pakistan is in the third place in a list of 167 countries where the slavery problem is severe. Any kind of slavery is illegal. The high ratio of slavery in the country is a matter of concern for all state institutions. Proper implementation of minimum wages, provision of social security and access to other facilities can reverse the bonded labour trend," he said. "According to the Global Slavery Index, more than two million people are enslaved in Pakistan. The problem is most severe in the Punjab and Sindh. The sale and purchase of brick kiln labour has become a profitable business. Peshghi is being transferred from one generation to the next as in property cases. Bonded labour is common in the brick kiln sector. A majority of brick kilns are located in Punjab. There is no implementation of the Bonded Labour System Abolition Act. The word of the kiln owner is the law," he said.

Nusrat Kamal, the district labour officer, said most workers were unaware of their rights. "They cannot form unions due to illiteracy. The provincial government is starting a Rs5 billion project for brick kiln workers. This project will cover the education of the workers' children, micro finance and rehabilitation of freed workers," Kamal said.  Speakers urged state institutions and the government to practically enforce the Bonded Labour System (Abolition) Act 1992.

Published in The Express Tribune, March 3rd, 2015.
COMMENTS
Comments are moderated and generally will be posted if they are on-topic and not abusive.
For more information, please see our Comments FAQ