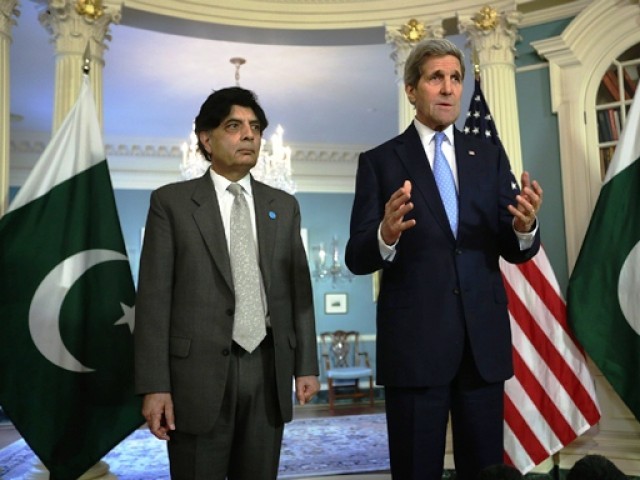 ---
WASHINGTON DC: There has also been 'a quantum leap in trust' between Islamabad and Washington, Interior Minister Chaudhry Nisar Ali Khan said on Thursday, adding that ties between Afghanistan and Pakistan have also never been better.

"Over the last few months, and I think due to the efforts of Secretary Kerry and the administration, there has been a huge quantum leap in the level of confidence, in the level of trust, and in the level of cooperation," he said as he met the US secretary of state in Washington DC.

Kerry expressed Washington's appreciation for Islamabad's efforts towards peace and security in the region, saying "Pakistan obviously is playing a critical role right now in a number of respects."

"First of all, in the transition taking place in Afghanistan, we are witnessing an unprecedented level of effort to try to produce cooperation.  There are some signs of real results with respect to that.  We're grateful for Prime Minister Nawaz Sharif's commitment to this [and] for [army chief] General Raheel's efforts.  They've been real," the top American diplomat said.

"I think Afghanistan and Pakistan, working in close cooperation, will do wonders in the field of counterterrorism," Nisar added.

Kerry also praised Islamabad's commitment to going after terrorists and all forms of extremism.  "They are making good on that in their initiatives in the country and in cooperation on counterterrorism." 

Published in The Express Tribune, February 21st, 2015.
COMMENTS
Comments are moderated and generally will be posted if they are on-topic and not abusive.
For more information, please see our Comments FAQ