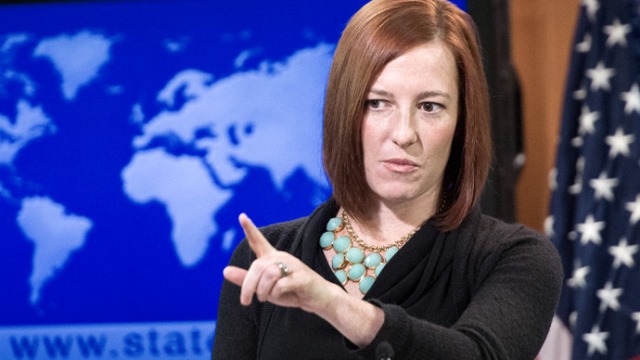 ---
The United States lauded on Wednesday Pakistan's deepening security cooperation with Afghanistan.

"We've long said that we welcome the prospect that we bring deepening cooperation between Afghanistan, Pakistan," said US State Department spokesperson Jen Psaki on Chief of Army Staff General Raheel Sharif's one-day visit to Kabul on Tuesday, during which he discussed security matters.

"We know that obviously there's a one-day meeting, as you referenced today, to discuss security cooperation, so certainly we think that falls into the category of efforts to deepen cooperation, which we would support," Psaki added, during her daily press briefing.

A day earlier, a source told The Express Tribune that the army chief, who traveled to Kabul along with ISI chief Lt Gen Rizwan Akhtar, was informed by Afghan authorities that "they are tightening the noose around Fazlullah."


RELATED: Whirlwind trip: Afghan forces closing in on TTP chief


This was Gen Raheel's second visit to Kabul in two months and appears to indicate that a significant development may be expected about Pakistan's most wanted terrorist.

Islamabad has presented compelling evidence about the fugitive chief of the outlawed Tehreek-e-Taliban Pakistan's involvement in the December 16, 2014 massacre at the Army Public School in Peshawar. Pakistan has since been pushing the Afghan authorities to eliminate terrorist sanctuaries as well as kill or capture Fazlullah.
COMMENTS
Comments are moderated and generally will be posted if they are on-topic and not abusive.
For more information, please see our Comments FAQ