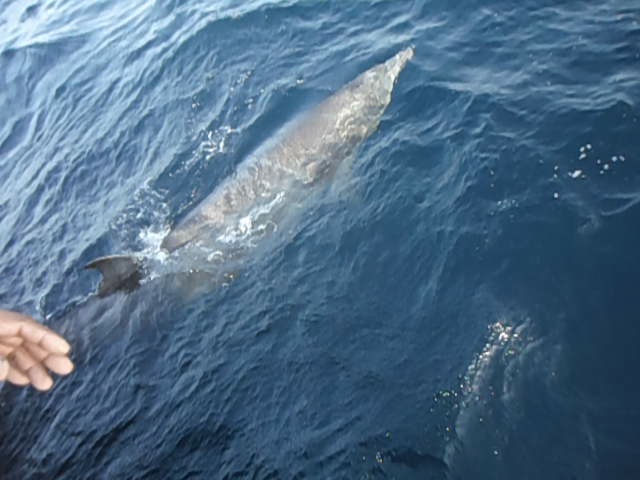 ---
KARACHI: Fishermen ensnared a rare Longman's beaked whale off Thatta's coast this week. But after they realised what was thrashing in their nets, they released it.

A group of tuna fishermen while setting their nets in the offshore waters, about 122 nautical miles off Khobar Creek (district Thatta) saw that a Longman's beaked whale (Indopacetus pacificus) had been caught in the gillnet on Tuesday.

A rescue operation was initiated by the crew of Al Azaan boat, under the supervision of Captain Iqrar Mohammad. They successfully untangled the whale after a 30 minute struggle.

"The entire crew took part in the rescue operation when they identified the endangered animal," Mohammad said after he returned to shore on Thursday.

The Longman's beaked whale is regarded as one of rarest of all living whales. This species was only known from appearance until it was sighted in tropical waters.

The whale has largely been sighted in the tropical Pacific and Indian Oceans.

Its distribution is not fully known, but it appears to be limited to the Indo-Pacific region, mostly in waters between Somalia and South Africa, the Maldives, Kenya and Sri Lanka. There are no known records from the northern Arabian Sea.

Technical Advisor Marine Fisheries at the World Wide Fund for Nature-Pakistan (WWF-Pakistan) Muhammad Moazzam Khan claimed that because of an awareness programme initiated by his organisation, fishermen operating off Pakistan's shore were able to identify and release endangered marine life.

"Substantial information about marine biodiversity is being collected, as well as protection of endangered and rare species is ensured," he added.

According to WWF-Pakistan, there is little information available about the whale species that Al Azaan caught because its sightings are rare. So much so, in fact, Tuesday's sighting was the first ever for the species in Pakistani waters.

What makes this sighting more remarkable is the successful release of a live animal, possibly for the first time in history.

Director WWF-Pakistan Rab Nawaz lauded the efforts of fishermen for saving unique and rare marine animals.

"Gillnets being used by fishermen for catching tuna are considered to be a very destructive gear, known for high incidences of mortality, especially in cetaceans," he said.

WWF-Pakistan had in October 2012 started a programme in which observers have been posted on tuna vessels to gather information about by-catch species, including turtles, sharks, dolphins, whale sharks and manta rays.