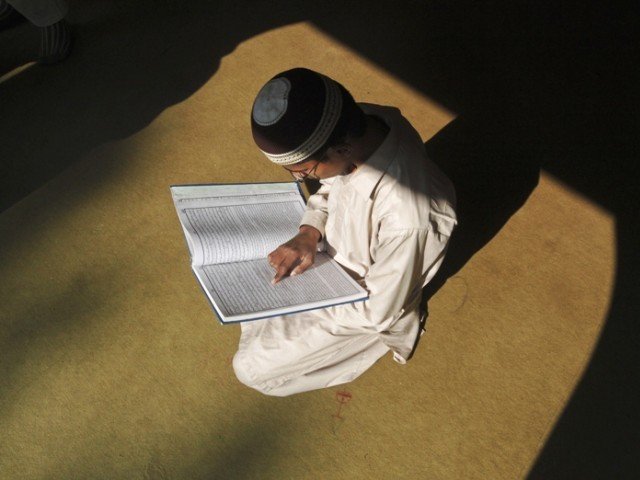 ---
ISLAMABAD:



The Punjab government formally admitted on Tuesday that seminaries were receiving foreign funding, seeking immediate help of the country's top investigation agency – Federal Investigation Agency (FIA) – to obtain actionable data for kicking off a crackdown against the beneficiaries.




A senior police officer informed the Senate panel that "mostly foreign funding received by seminaries and madrassas in Punjab is through private channels, for instance hundi or hawala, and personal visits of persons to collect donations".

Interestingly, the provincial police also advised intelligence agencies/institutions not to blame any brotherly country without any concrete evidence which "can create unnecessary diplomatic embarrassment for the government of Pakistan".




The Saudi Embassy admitted in its official statement on Monday that they, after getting confirmation from foreign office of Pakistan, have been funding to welfare seminaries, mosques and charity organisations.

During the course of proceedings, the Senate Standing Committee on Rules of Procedure and Privileges, after the disclosure, summoned IG Police Mushtaq Sukhera, directing him to furnish detailed report on foreign funding to seminaries in Punjab. The committee found IGP Punjab breached the privilege of the Senate after he informed the house panel that there was not a single seminary taking foreign assistance in the province.

"Substantive evidences confirm involvement of foreign-funded seminaries which were involved in promoting militancy in Pakistan," said Senator Tahir Mashhadi, chairman of the committee, which on directions of Senate chairman summoned Punjab police chief for concealing information pertaining to foreign funding to madrassas.

"Foreign funding [after Punjab confession] is flowing to seminaries [right] under [the] noses of intelligence [agencies] as well as the government," he noted.

"I'll love to brace diplomatic embarrassment rather than foreign-funded militants kill a single citizen in this country," he said in reference to words of caution that too much hoopla about foreign funding to seminaries could strain Pakistan's diplomatic ties with brotherly countries.

Senator Afrasiab Khattak also said the masterminds behind all terror attacks have hidden themselves in Punjab. "Now police teach us don't take up this issue as it creates a diplomatic row," he added.

On this occasion, Senator Jaffar Iqbal of Pakistan Muslim League-Nawaz (PML-N) stated that like Gulf states, Iran is also funding to promote its own narrative in the country. In response to his observations, Chairman Senate Standing Committee on Foreign Affairs Senator Haji Adeel told lawmakers that he has already taken up issue of Tehran funding with Iran's top diplomat in Islamabad.

Rawalpindi top police officer Khalid Lalika, who was representing IGP Punjab in the meeting, informed the lawmakers that efforts are afoot to procure some concrete evidence/actionable intelligence. "It would be appropriate if State Bank of Pakistan and FIA are requested to put in efforts to provide evidence regarding transfer of funds to the madrassas," he suggested.

"Special branch of the police has some source reports regarding financial and other assistance from foreign Islamic countries. However, it is hereby reiterated that there is no concrete/solid evidence and actionable intelligence to this effect," Dr Arif Mushtaq Chaudhry, Additional IG Police Special Branch Lahore wrote to the committee in response to Senator Sughra Imam's question on foreign funding to seminaries.

Now, so far obtained details of seminaries being funded by foreign states in Punjab will be submitted to the committee on coming Monday.

Published in The Express Tribune, February 11th, 2015.