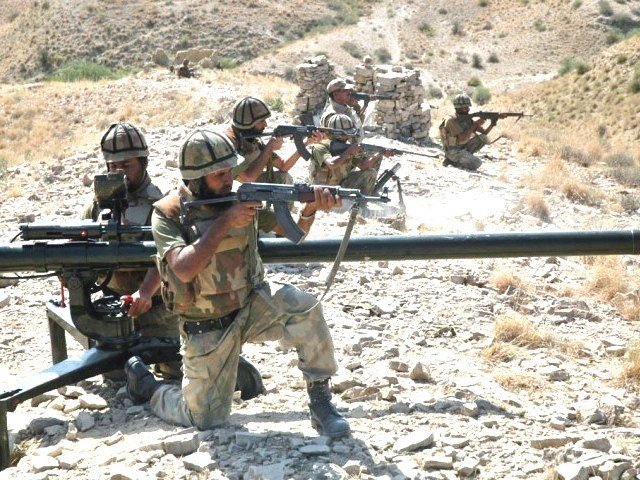 ---
ISLAMABAD:



Security agencies have launched a targeted operation against the 'supporters and abettors' of terror outfits in southern Punjab and interior of Sindh as part of the new counter-terrorism strategy.




A security official told The Express Tribune that both civilian and military intelligence outfits have identified individuals as well as groups that have been supporting militants.

The official, who requested anonymity because of the sensitivity of the issue, disclosed that supporters and abettors of terrorists, including banned outfits, had been under surveillance following the approval of the National Action Plan (NAP) to deal with the growing threat of militancy.




According to joint surveillance carried out by civilian and military intelligence agencies over the past few weeks, South Punjab and parts of interior Sindh have been identified as the strongholds of groups and individuals supporting several militant outfits.

In southern Punjab, both material and manpower support comes mainly from Rahim Yar Khan, Jhang, Chiniot, Dera Ghazi Khan and Bahawalpur districts, whereas in Sindh, Khairpur, Hyderabad, Shikarpur, Nawabshah and Larkana are the districts from where militant outfits draw much of their support.

Intelligence agencies have also identified individuals, including religious figures as well as politicians, who are supporting these organisations.

"We will take action against all of them, irrespective of their rank or association with any group or party," said a senior Punjab government official familiar with the development. "No matter what the reaction is, we will take them to task," the official added. "For us, the interest and security of Pakistan is supreme."

At least 90 hardcore terrorists from South Punjab were rounded up following the crackdown against supporters and abettors of militant outfits. Most of them are members of proscribed outfits.

The crackdown in South Punjab and interior Sindh is seen as crucial to effectively dealing with the several militant organisations.

"The actual battle may be taking place in the tribal areas but the job will only be half done if the militant support network is not destroyed in southern Punjab," said another official. He pointed out that military authorities had been working with civilian agencies to take action against abettors and supporters of terrorist outfits under the NAP.

Pakistan stepped up its campaign against militant organisations in the wake of the December 16 attack on the military-run school in Peshawar. Since then, both the civil and military leaderships have repeatedly stated that they would fight against all forms of terrorism.

Recently, top military commanders also vowed to target sectarian outfits that have posed a major threat to the country's peace and stability.

There are fears that sectarian organisations will ramp up their struggle in post-2014 Afghanistan as well as in the wake of attempts by the Islamic State ultraorthodox group to make inroads in this part of the region. "That is why the crackdown in South Punjab is vital," the official explained.

Published in The Express Tribune, February 9th, 2015.