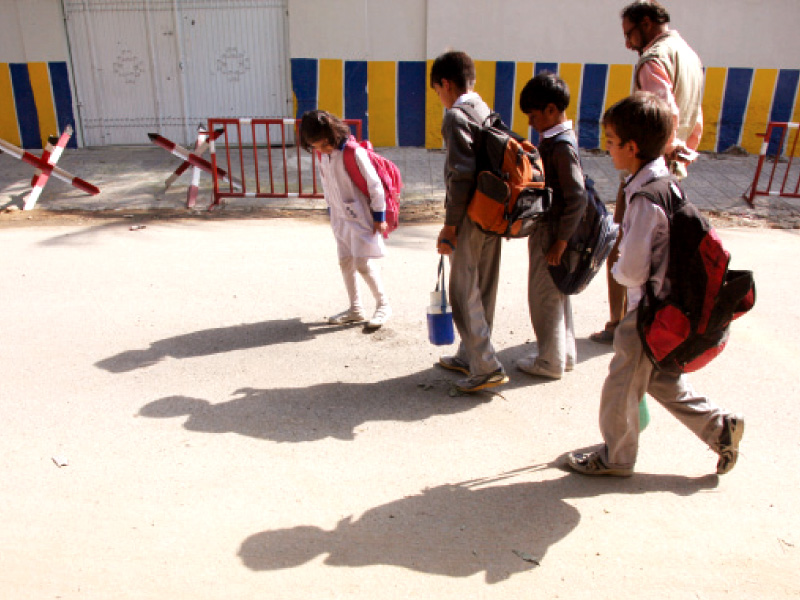 ---
KARACHI:



It must take an extraordinary amount of courage for a group of class four students to be singing 'Bara dushman bana phirta hai jo bachon se larta hai [Some enemy he is, he who targets children]' a few hours after some men hurled two grenades outside a school in Gulshan-e-Iqbal on Tuesday.




These three students of Beacon Light Academy, located in Gulshan-e-Iqbal Block 7, stood defiantly outside their school a little after 12 noon as classes ended early. "We are not weak and such attacks cannot stop us from coming to school," said nine-year-old Tahir, who studies in class three.

Even the neon warning note that the militants left behind did little to break their resolve. "I will come to school tomorrow no matter what threats they give," said Tahir. "I will continue my education."

The suspects who threw the grenades apparently left behind notes in both English and Urdu warning the 'apostate rulers of Pakistan' of dire consequences if their 'Mujahideen brothers' continue to be hanged. It also warned members of the civil society to stop 'promoting anti-Islamic culture' and added that these grenade attacks were 'merely a trailer'.

Since the attack took place at around 6:50am, a large number of parents did not send their children to school. "There were only 10 students in my class today including me," said another student of class three.

The ones who take the school van did manage to reach the school but none of the routine activities, such as the morning assembly, took place. "I dropped all the 16 students at the campus gate and left," said Syed Raees, a van driver.

The students who made it to school were scared in the beginning. "At first, it was very scary and I thought that something like Peshawar attack is going to happen," said Maria Abid, a class 11 student. "But then our teachers told us about the attack," she added.

The bell signalling the end of classes rang at 12:15pm and out came the students with their bright smiles and shining eyes. Some students made victory signs with their little hands as stepped outside.

Even the school administration felt there was no need to shut down the school as the attack took place long before students and teacher started arriving. "But there is a need to tighten security," said Yasmeen Qazi, the academic coordinator at Beacon Light Academy.

The parents are also concerned about the security measures in place. "I rushed to the school to take my sons home soon after I saw the news on television," said Junaid Latif, father of two.  "I came back again to see what safety methods the police have taken and whether or not I should send them to school tomorrow."

Many schools have received threatening letters and pamphlets for the past 10 days, claimed a resident, Mrs Khurram. "Why haven't any steps been taken to secure these schools or are they waiting for another Peshawar-like attack?"

Published in The Express Tribune, February 4th, 2015.
COMMENTS (1)
Comments are moderated and generally will be posted if they are on-topic and not abusive.
For more information, please see our Comments FAQ