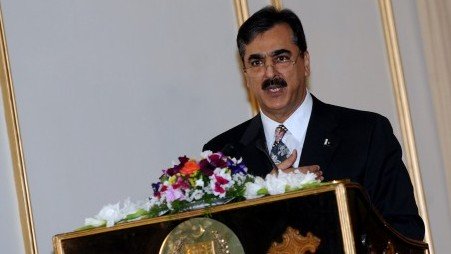 ---
ISLAMABAD: Minister for Water and Power, Raja Pervez Ashraf said that the easiest method for resolving the power crisis was to reduce consumption.


Ashraf said strict control over the use of air conditioners and turning off streetlights and decorative lights will save 70mw of electricity. Usage of electricity will strictly be reduced by 50 per cent in government offices. He said that another 70mw of electricity has been saved by this method daily. Only authorized officers will use air conditioner but not before 11am.

He announced that all commercial activity will end at 8pm. He said that it will take 3-4 days for the entire plan to be implemented.

Speaking at the energy conference on Wednesday, Ashraf said all government departments will have a two day holiday, adding that this policy will be reviewed July 31. He said that overall 500mw would be saved daily by implementing this plan.

Regarding Karachi, Pervez Ashraf said that a decision has been made for PEPCO to reduce supply of power by 300mw to the metropolis, which will be made up by Karachi's own power plants.

Ashraf said that the government had inherited circular debt which was aggravating the power crisis, but the provincial governments are working on resolving this soon. He added that KESC which owes PEPCO Rs 39bn has agreed to pay back their dues.

He said Iran will supply 100mw of electricity to Pakistan in five years time.

Earlier, Prime Minister Yousaf Raza Gilani said that the energy shortage will be overcome through consensus on a strategy, while . He said scheduled loadshedding will be reduced by 33 per cent by following this new plan.


Gilani said four areas have been identified for immediate work, including energy saving, and short term strategies for immediately generating 300mw including rental power plants which will generate an additional 600mw by the end of the year. He also said that the government  will invest Rs 116 billion in the power sector to end circular debts.

Adressing the media, along with the four chief ministers, the prime minister said the government is focusing on short as well as long term projects to overcome energy problems. Giving details about these projects, he said a public energy fund will be set up  with an intitial amount of Rs 20bn.

He said special attention will be be paid to energy convservation to save 500mw of electricity. Beside this, 10 independent power producers will set up  to meet surging power demands. He asked poeple to show patience by absaining from violent protests.

Additionally, the prime minister said that the summit's recommendations will be reviewed after every 15 days to evaluate the developed strategy, adding that the focus will be on the industries and agriculture.

He said that work is already underway on improving the generation of electricity, and the primary focus of his recent strategic dialogue with the US primarily focused on tackling the issue of power generation, not defence.

Gilani said the representatives at the energy conference had received the mandate of the people and should be trusted in making the right decision. He added that the power crisis was an inherited problem.
COMMENTS (15)
Comments are moderated and generally will be posted if they are on-topic and not abusive.
For more information, please see our Comments FAQ