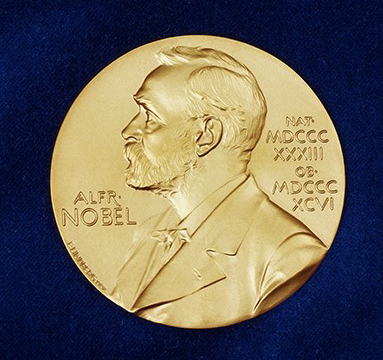 ---
OSLO: A Russian newspaper critical of President Vladimir Putin is among the nominations for the 2015 Nobel Peace Prize, along with Edward Snowden, Pope Francis and a priest helping African migrants.

Although the committee has marked the last four 10-year anniversaries of the 1945 bombing of Hiroshima by honouring the fight against nuclear proliferation, there was little speculation among Nobel watchers that the trend would continue.


All 126 Peace Prize Laureates (1901-2013) sorted by field. One Nobel Laureate may be listed under several fields. pic.twitter.com/KgI36ptdix

— The Nobel Prize (@NobelPrize) October 10, 2014


Thousands of people, including all members of parliaments, can make nominations, which must be postmarked no later than February 1. The $1.2 million award will be announced in October. The Norwegian Nobel Institute does not publish names of nominees, but Norwegian experts compile lists.

Pope Francis has been nominated for stressing social justice and care for the environment.

Former US spy agency contractor Edward Snowden, who leaked details of US electronic surveillance, for showing how citizens are monitored with few democratic controls has also been nominated. However, like Wikileaks founder Julian Assange and the US soldier Bradley (nee Charlie) Manning who leaked US diplomatic cables, he is unlikely to be awarded.


Number of nominations registered in the #NobelPrize Nomination Database so far. Search here: http://t.co/lZyHDAi3kl pic.twitter.com/d1ri3AoM50

— The Nobel Prize (@NobelPrize) January 31, 2015


Kristian Berg Harpviken, head of the Peace Research Institute, Oslo, named as his favourite Mussie Zerai, a priest of Eritrean origin living in Italy who has helped some of the thousands of African migrants who have risked their lives to cross the Mediterranean. "The migration crisis is worsening day by day," he said.

Harpviken put Novaya Gazeta, a Russian investigative newspaper critical of Putin, second for its work to expose corruption. He said such an award "would also more widely speak to the issue of media freedom" after the militant attack on the French satirical weekly Charlie Hebdo last month in which 12 people were killed. Harpviken doubted whether Charlie Hebdo itself could win, since many Muslims oppose the newspaper, known for sacrilegious cartoons.

Islamic violence was in any case condemned last year with a prize shared by Pakistani teenager Malala Yousafzai, who campaigns for girls' education and had survived a 2012 assassination attempt by Taliban gunmen. Asle Sveen, a historian and expert on the prize, said the secretive five-member committee was unlikely to feel bound by the nuclear anniversary.

The International Atomic Energy Agency won in 2005, ban-the-bomb scientist Joseph Rotblat in 1995, International Physicians for the Prevention of Nuclear War in 1985 and Soviet human rights campaigner and nuclear scientist Andrei Sakharov in 1975.


51% of the Nobel Peace Prize Laureates are born in Europe: pic.twitter.com/NwdGFVO7Fo

— The Nobel Prize (@NobelPrize) October 10, 2014


The last non-nuclear winner in a year ending in a 'five' was the UN Children's Fund, UNICEF, which won in 1965. "I think it is more of a coincidence that you have these intervals," Sveen said. Harpviken said one anti-proliferation candidate could be Nihon Hidankyo, who represents the sufferers of the bombings of Hiroshima and Nagasaki.
COMMENTS
Comments are moderated and generally will be posted if they are on-topic and not abusive.
For more information, please see our Comments FAQ