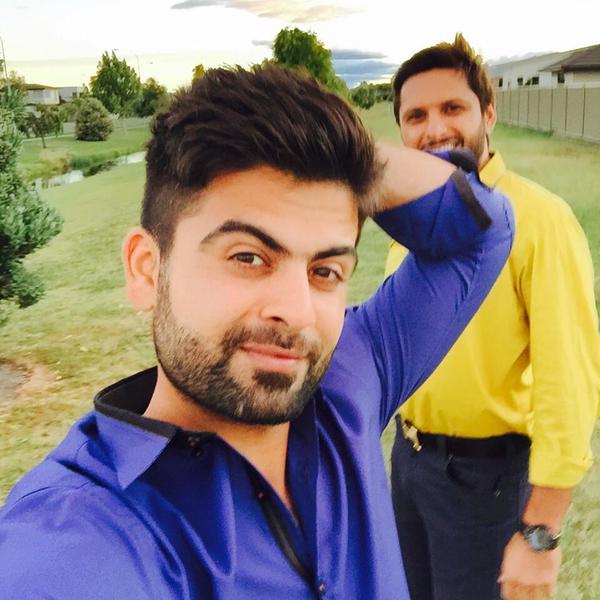 ---
KARACHI: With the cricket world cup due to start later this month, Pakistan's cricket team has been under increasing scrutiny for their fairly unusual preparations.

They've consulted spiritual advisors for their kit numbers and sported the haircut of champions, but this latest antic may  just have topped them all. Two players - Shahid Afridi and Ahmed Shahzad - are arguably the worst offenders as the following pictures show.


World Cup Selfies....... #Pakistan #Cricket #TeamGreen #CWC15 pic.twitter.com/GdBr148XTH

— Faizan Lakhani (@faizanlakhani) January 20, 2015




http://twitter.com/cricphotos/status/562184424750452736


When you try and take a selfie but bae photobombs you... pic.twitter.com/aCRplD6945

— Khaver خاور (@thekarachikid) February 2, 2015
Yeh hai Allah ka sahi azaab hamari team per. Selfiyaan. pic.twitter.com/hqZRyxvf3p

— berbaad kacchay 🩲 (@mahobili) February 2, 2015
For Ahmed Shehzad fans ONLY. RT @omgnashlol: @MalhotraSaurabh Selfies toh hein hi hein, some other gems too https://t.co/NwnzUislZG

— Saurabh Malhotra (@MalhotraSaurabh) March 8, 2014


http://twitter.com/rizwanum/status/557621820346490880


If Ahmed Shehzad put as much focus and attention to his batting as he does to taking selfies he would be Bradman's modern day equivalent

— omar r quraishi (@omar_quraishi) January 21, 2015


http://twitter.com/nailainayat/status/557590628574302209


No one cn beat hm in #Style #Handsomeness #Awesomeness #Dashing #SelfieAddictor #Heroes #stunning @iamAhmadshahzad 😍😘 pic.twitter.com/dLq15YqwVL

— Shahzadi Mishal ❤ (@IamAMishal) February 2, 2015


http://twitter.com/Hafeezian_08/status/562189272615092224

http://twitter.com/IamAnarkali_19/status/562167274392387584




http://vine.co/v/Ot353aPaLmt



Yep, best of luck... champs.