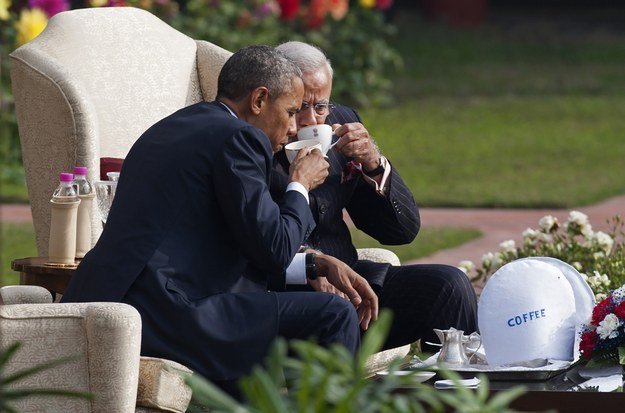 ---
Indian Prime Minister Narendra Modi seemed like he was wearing a regular pinstriped suit during US President Barack Obama's two-day visit to India.

However, it was anything but regular seeing that there is more about Modi's choice of clothing compared to the Obama's.






US President Barack Obama with Indian Prime Minister Narendra Modi. PHOTO: AFP


On closer inspection, the Indian premier's suit, which he wore to the function that took place on Saturday at the Hyderabad House, had some oomph to it.

Those weren't just pinstripes. No. It was in fact Modi's name - Narendra Damordardas Modi - woven into the the material of his suit, creating an illusion of pinstripes from a distance.

Want a closer look?





A close-up of Indian Prime Minister Narendra Modi's suit. PHOTO: AFP


Still can't tell what it really is? Take a closer look.





Narendra Damordardas Modi woven into the fabric of the Indian premier's suit. PHOTO: TWITTER


The Indian premier's outfit - which admittedly, no one can steal to wear - and his bear-hug with the US president, has gone viral on social media as well.

Although, as much praise as Modi is getting from changing up his attire from the usual traditional kurta pajama and wearing a suit with his name all over it, he should know ousted Egyptian President Hosni Mubarak wore it first, according to India Today.


Oh, Modi was just copying Hosni Mubarak. That makes it so much better. RT @Vidyut @siddharth3: @samar11 http://t.co/Fp7kNpBwiG

— Brown Sahiba (@Rajyasree) January 26, 2015


Also, according to the Times of India, Obama had had toasted to the Indian PM, and had said he wanted Modi to wear a 'Modi kurta'.


Modi, clad in a traditional 'Modi kurta' receives US President Barack Obama and his wife Michelle Obama. PHOTO: AFP

Obama's top-notch vehicle, The Beast, transports him around India

US President Barack Obama, also the first US president to be the chief guest for India's Republic Day parade, will only travel in his super sophisticated armoured limousine -- also known as The Beast, the Times of India reported.

The Beast -- which is also bomb proof -- arrived in a special aircraft at Delhi's International Airport prior to the US premier's arrival in the city. It is based on the model of the Cadillac DTS but its exterior is that of a Chevrolet Kodiak, according to NDTV.




The Beast -- Obama's sophisticated armoured limousine. PHOTO: AFP

Below are some facts about Obama's armoured limousine:

1. It has an 8-inch thick body armour plating, and 5-inch thick bulletproof windows. The car weights eight tonnes!

This ensures that the vehicle, and its high profile user, are impenetrable by bullets or hand grenades.

2. The doors weigh the same as those of a Boeing 757 aircraft, and swing on special heavy hinges.

3. Because of The Beast's humongous size, the vehicle needs all the horsepower 6.5 litre Duramax diesel engine produces.

The car's mileage stands at about 3.4km/l – which incidentally could make tree huggers squirm.

4. A special foam covers the fuel tank, in order to prevent it from exploding.

5. The Beast is a seven-seater vehicle, so apart from the US premier, it can accommodate his driver, his chief secret service agent, and four other people.

6. The armoured limousine also uses shred-and-puncture proof Kevlar tires made by Goodyear, which can even run when shot out and can endure punctures.

7. The cabin of the limousine also has a lot of equipment, such as teargas cannons, a night-vision camera and a pump-action shotgun.

What's more is that should there ever be a chemical attack, the car cuts off air from the outside completely. It then keeps the cabin supplied with breathable air until it is safe to open the doors again.

8. The Beast holds the blood type of the US president.

9. The car's boot is used to store oxygen tanks and firefighting equipment.

10. Everywhere it goes, The Beast only runs with Washington DC number plates.
COMMENTS (14)
Comments are moderated and generally will be posted if they are on-topic and not abusive.
For more information, please see our Comments FAQ