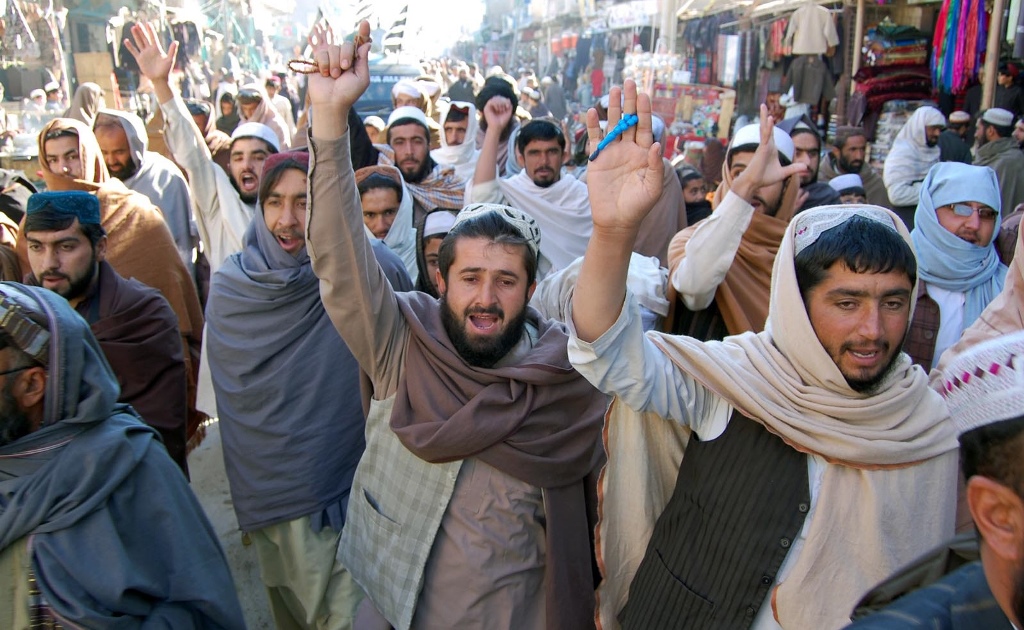 ---
QUETTA: A complete shutter-down strike was observed in Quetta on Friday as several politco-religious groups staged protests against the sacrilegious caricatures of Prophet Muhammad (pbuh) published by French satirical magazine Charlie Hebdo.

The strike was jointly called by the banned the Jamaat-ud-Dawa, Jamiat-e-Ulema Islam Nazriati (JUI-N), Jamaat-e-Islami (JI), Ahl-e-Sunnat Wal Jamaat, Mutheda Mahaz Balochistan and Khilji Qaumi Ittihad.

There were also reports of armed men roaming different parts of the city and forcing shopkeepers to pull down their shutters and suspend all businesses. The Anjuman-e-Tajeran, traders' union Balochistan, backed the call for the strike.

Religious parties took out a separate procession and held protest demonstrations near the Quetta Press Club.

All shops, fuel pumps, markets, banks, shopping centers, restaurants and other commercial establishments in downtown and on the outskirts of Quetta remained closed for the day.

A majority of government offices were either closed or witnessed low attendance.

While traffic was normal in other areas, but roads and streets in downtown Liqauat Bazaar, Bacha Khan Chowk, Jinnah Road and adjacent areas were sealed, as religious parties held a public gathering there.

The JUI-N took out the procession and held a protest demonstration. They demanded that Pakistan should cut diplomatic ties with France, and that there should be pressure on the international community to punish the cartoonist.

The JuD blocked Shaharah-e-Iqbal with its public gathering. Their procession was led by the provincial head Mufti Muhammad Qasim.

The processions marched across the city, and stringent security measures were adopted with the deployment of the Frontier Corps (FC), the police, the Balochistan Constabulary and the Anti-Terrorism Force (ATF).

Some Quetta residents though criticised the protesting parties for holding separate demonstrations.

"The European countries stood together and joined hands while protesting against the deadly attack on the French magazine which was symbolic, but here parties are even not united to send a powerful message," said Ghulam Murtaza, a resident of Saryab Road.