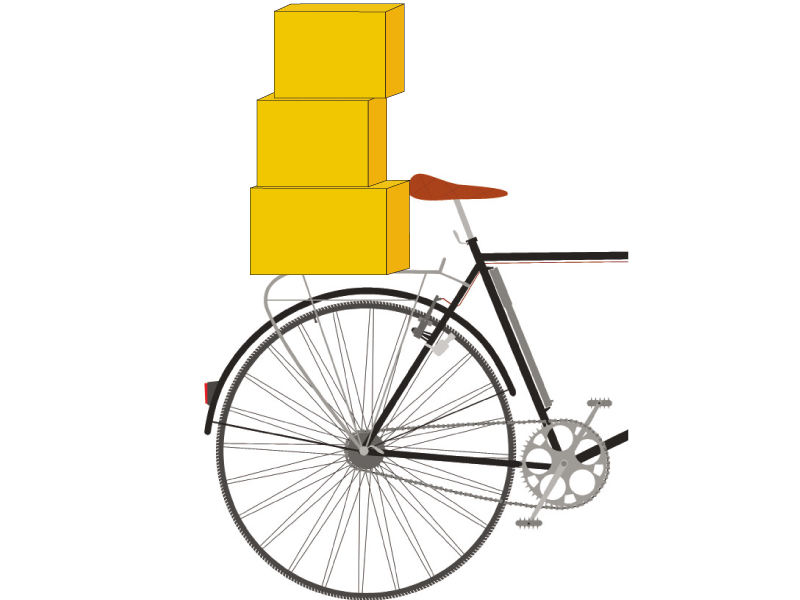 ---
PESHAWAR: At the busy Karkhano Market of Peshawar, over a dozen men dressed in filthy shalwar qameez are loading sealed cartons on their bicycle carriers.

One by one, they paddle their bikes out of Khyber Market—a street in Karkhano Market with shops on either side—to transport cartons filled with nothing but smuggled goods to Haji Camp Bus Terminal. From there, the items will be taken to other cities for sale.

The locals call these transporters  'gandamars'—a term derived from the Pashto word ganda which refers to a bulk of goods wrapped in cloth. However, in reality, these cyclists are a cog in a large wheel that smuggles goods to the city.

In the morning, the gandamars reach Khyber Market where the 'Commissionkar' hands over the goods for transport. Commissionkars are brokers who get cargo from businessmen in Karkhano market by taking responsibility for the safe and secure shipment of the consignment.

The consignments include cloth, tyres, edibles, cooking utensils and electric appliances. The gandamar gets Rs500 per trip of which Rs200 goes to the Commissionkar. The broker hires their services and has them released in case law enforcers catch them on the way, says Haji Akbar, a senior broker and former gandamar. "I had to pay the loss to the owners if customs officials seize the goods," says Akbar, who sends around 100 riders on trips every day.

"The job is very difficult and risky," says Saleh Mohammad, who has been hauling smuggled goods on his bike for over two decades. "Everyone can't do it," adds the 58-year-old. "We travel at least 20 kilometres on one side of GT Road, carrying over 100 kilogrammes of goods. We do this because we have no other jobs," the veteran gandamar says.

Paddling on GT Road, they get onto smaller streets at Hayatabad Chowk and Sher Khan Stadium to avoid police, customs and army snap checking. "The police apprehend us and hand us over to customs officials," says Lal Gul, another gandamar who was busy loading cartons on his bicycle.




The same morning, customs officials intercepted 15 loaded cycles and gandamars on their morning run. This halted supply from the market for the entire day. "Today we have not made a single trip due to strict checking at Hayatabad Chowk," he says. The cyclist adds they make three trips in the summer and two in winter. "It takes a couple of hours to reach the city."

They travel in a convoy of eight to ten depending on the quantity of goods they get for a single destination. "We have to travel together to avoid a mishap on the way," he says. "Together, we can deal better with the police who usually take us lightly compared to people carrying shipments in vehicles."

On the way to the bus stand, they go downhill and it is easy to paddle with a loaded cycle. However, the return to Karkhano Market is quite literally an uphill task and those who can spend Rs50 prop their bikes on a bus and take a ride back. Those who do not have enough for the fare latch onto a bus by hand and the vehicle drags the cycle along, without the rider having to paddle.

The bike is also known as the gandamar cycle because of its large carrier. It's a simple cycle of Chinese make with slight modifications to carry the load. They buy used bicycles and double the number of pins in the rear wheel to increase strength.

The bicycle costs around Rs10,000 and four of Lal Gul's have been stolen from separate areas over the last eight years.

Most shop owners in Karkhano Market denied hiring the services of gandamars, but they could easily be seen handing over shipments to this small army of bicyclists. According to Umer Siddique, a shopkeeper at International Market, another busy street in Karkhano, mini-trucks would carry smuggled goods to the city around 15 years ago and pay mahwari or monthly bribes to the police. However, that system of smuggling came to an end and that is when bicycles and motorcycles started thriving.

"These goods reach the bus stand, from where they are hauled to different cities," he says.

"We prefer cycles because they can evade customs authorities on the roads," says Mohammad Fazal, an electronics dealer, when asked why shopkeepers use a more labour-intensive mode of delivery. "If customs officials catch your goods, they charge heavy fines and you have to pay taxes even if they were previously paid."

Customs authorities claimed the gandamars resort to violence when intercepted. "We avoid them because they attack our officials and their movement is usually on main University Road," said an additional collector customs. "They attack our officials with sharp blades which they keep with them," he added, saying authorities are focusing on spots from where the smuggling originates and have also taken up the issue with the paramilitary.

Published in The Express Tribune, January 21st, 2015.