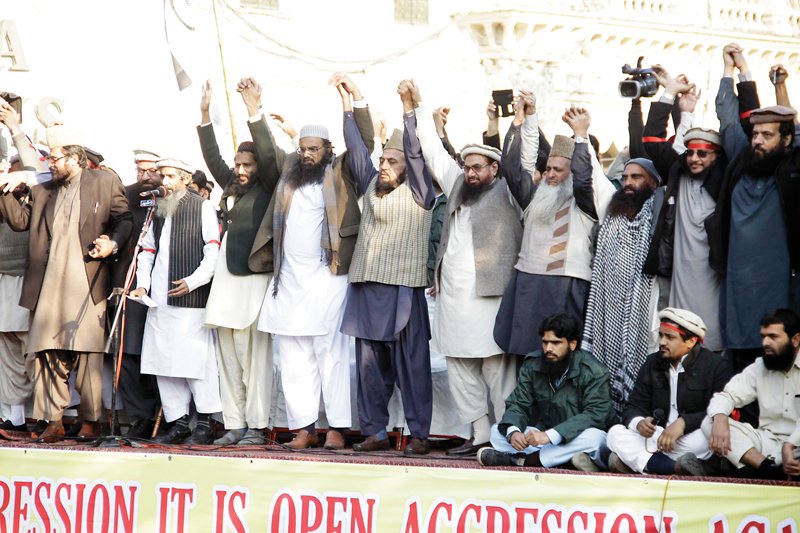 ---
LAHORE:



Jamaatud Dawa chief Hafiz Muhammad Saeed on Sunday urged Muslims across the world to boycott French commodities in protest against the publication of sacrilegious caricatures by French magazine Charlie Hebdo.




He was addressing the Hurmat-i-Rasool March, organised by the Tehreek Hurmat-i-Rasool from Nasser Bagh to Masjid-i-Shuhada on The Mall.

Participants of the rally, carrying placards and banners, chanted slogans against the United Nations and France. They demanded death penalty for those responsible for the caricatures.




Saeed said the United Nations should declare blasphemy 'terrorism' and pass an intentional law against it. "If it fails to do so, Muslim countries should sever ties with it and form a Muslim Union."

He demanded that legislation against blasphemy be given more importance than the war against terrorism. "Blasphemy is the worst form of terrorism in the world. It is terrorism against 1.5 billion Muslims. There will be no peace if international laws are not made against blasphemy," said Saeed.

He said Pakistan was established in the name of Islam. He said a resolution passed by the National Assembly against the caricatures was not enough. He called upon the government to raise the issue at all forums, including the Organisation of Islamic Conference. The international community must ensure that such caricatures are not published again, he said.

The JuD leader accused the US of supporting such activities to avenge its defeat in Afghanistan. He said Muslims across the world had launched a movement to safeguard the sanctity of the Holy Prophet (peace be upon him). The movement would result in an 'Islamic revolution', he said.

Saeed said the JuD would hold Hurmat-i-Rasool Marches in other parts of the country, including Azad Kashmir on January 23. All religious and political parties would participate in the marches, he said.

"A grand Hurmat-i-Rasool March will be organised in Karachi on January 25."

He said the JuD had always faced a negative propaganda for its efforts to unite political and religious segments on one platform.

Jamaat Ahle Hadith leader Hafiz Abdul Ghafoor demanded that Prime Minister Nawaz Sharif sever diplomatic and economic ties with France and declare a war against the country.

Tehreek-i-Hurmat-i-Rasool chairman Maulana Amir Hamza said the West had declared a war against Muslims as 40 European countries had united to show solidarity with the caricatures' publisher. He said the sacrilegious images had hurt sentiments of Muslims.

Jamaat-i-Islami central leader Maulana Abdul Malick stressed the need for unity and integration among Muslim countries to foil what he called conspiracies of the West against Islam. Leaders of all 20 religious and political parties of Tehreek-i-Hurmat-i-Rasool addressed the protesters.

Published in The Express Tribune, January 19th, 2015.
COMMENTS (6)
Comments are moderated and generally will be posted if they are on-topic and not abusive.
For more information, please see our Comments FAQ