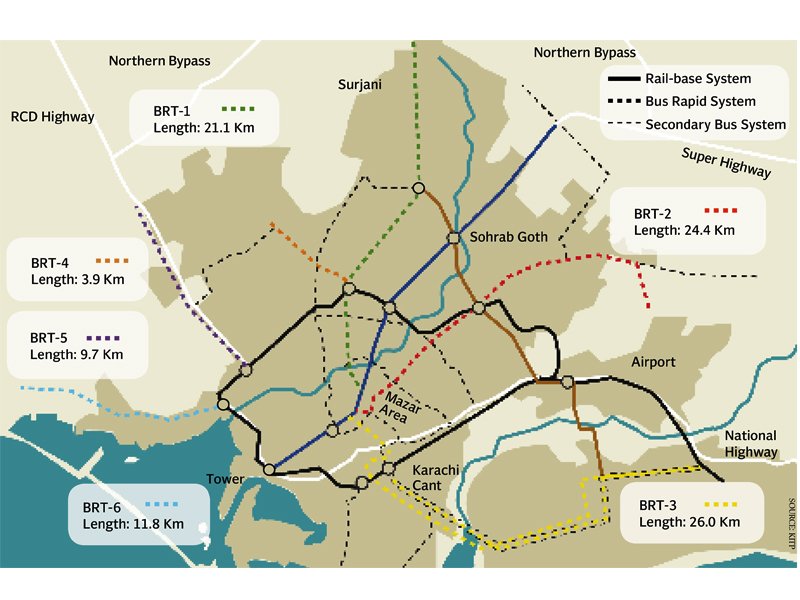 ---
KARACHI: Urban transport guru Enrique Penalosa may be coming to Karachi for five days in March to help with one mass transit line.

Japanese experts have prepared a 2030 plan to improve Karachi's transport network. This involves the Karachi Circular Railway, six bus rapid transit lines and two mass transit lines. Last year Bahria Town suggested to the Sindh government that it would be happy to pay for the Blue line from Merewether Tower to Surjani Town. It has invited Enrique Penalosa to advise them and their consultant, Exponent Engineering (EE), on the Blue line.

"He will be able to help us with the social and political aspects," said Ashar Hashmat Lodi, the director of transportation engineering at EE, adding that technical experts need the benefit of that perspective for such projects. "I am extremely hopeful about the Blue line."




Bahria Town is understandably interested in the Blue line to Surjani Town as its master-planned gated community is located 9km from the Superhighway toll plaza. However, the rules dictate that even though Bahria made an unsolicited proposal, the Sindh government has to open the floor to others and elicit competitive bids. "The draft for the request for proposals is being prepared," Lodi said. In the meantime, though, EE and Bahria were keen to do their homework, which is why Penalosa was being invited.

Penalosa is an internationally recognised name when it comes to bus rapid transit. When he was mayor of Bogota, the capital of Colombia, he created TransMilenio in 2000, which is now hailed as the gold standard for BRT, the middle-of-the-road routes dedicated to buses that allow them to rapidly transport people without interference from cars and motorcycles. It also disciplines the buses to stop at stations.

Penalosa's arguments in favour of equity in public space have been globally influential. In fact, his words resonated with many when he came to Karachi in 2008. He had said then: "Do we dare create a transport system giving priority to the needs of the poor? Or are we really trying to solve the traffic jams of the upper income people?" Karachi should be a city that is for people not cars, has parks not parking spaces.

Penalosa told The Express Tribune that he is keen to return to Karachi and especially speak on the political and technical arguments in favour of a well-done BRT. He felt that it would be wonderful to visit unplanned settlements and especially see where the city is growing. He recalled his visit to the Orangi Pilot Project where he met the late Perween Rahman.

"I remember Karachi as a city of light and blue skies," he said in an email. "Karachi also seemed to me an extremely dynamic, creative, passionate city. The buzz of an economy moving, of people working hard, was evident everywhere; the art in trucks, the colours in the clothes, showed a creative city, a city which enjoys beauty and life." He added, however, "But it also seemed Karachi was not a city with a clear vision of itself in the future…. [I]t was not a city very respectful of pedestrians and cyclists. As many developing country cities, it was not yet a city where it is understood that all citizens are equal and thus a bus with 90 passengers has 90 times more right to road space than a car with one. Karachi needed more dreams for itself, more dreams of pedestrian spaces and waterfronts, more clarity relative to democratic ways of distributing road space between pedestrians, bicyclists, public transport and [private vehicles]."

As mayor, Penalosa rejected proposals to build highways through Bogota, seven of them elevated. Instead he restricted private car use, especially during peak hours, and promoted public transport and bicycle use. He was nearly impeached for trying to get cars off the pavements, where they had parked for decades. It will be his experience in achieving these socially equitable solutions in politically explosive contexts from which Karachi could potentially benefit.

Bahria's unsolicited proposal comes at a time when there has been a genuine push from several quarters to solve Karachi's traffic crisis. The prime minister announced Rs17 billion for the Green line last year. The government has been in talks with the Asian Development Bank on the Red line and the Institute for Transportation and Development Policy has been exploring the Yellow line.

Published in The Express Tribune, January 19th, 2015.
COMMENTS
Comments are moderated and generally will be posted if they are on-topic and not abusive.
For more information, please see our Comments FAQ