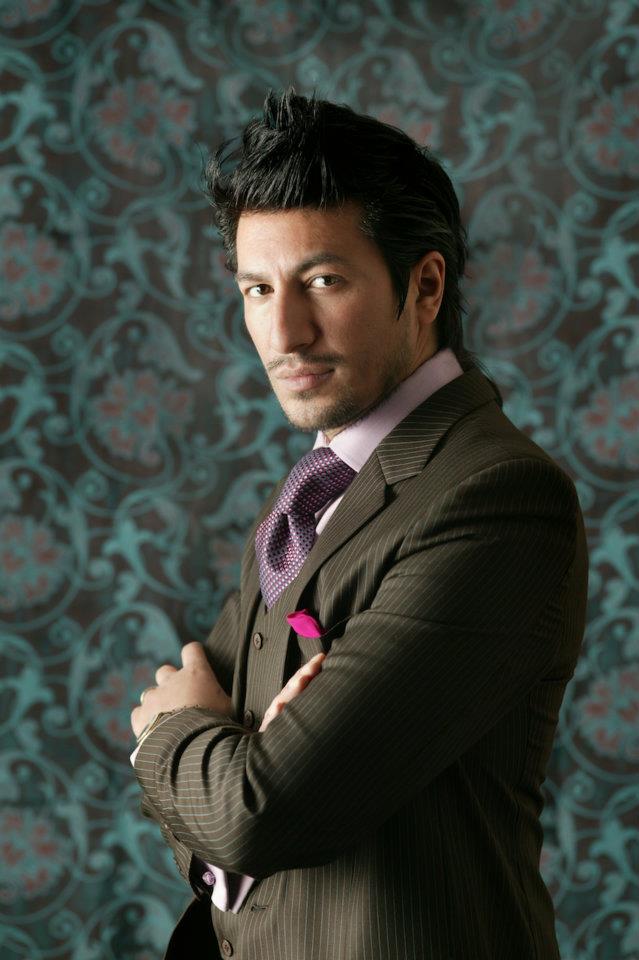 ---
ISLAMABAD:



One fine day while hosting an English live show 'Music Hour with Wiqar Ali Khan' from London, a few Pathans called into the show.

"I instantly switched from this British talking VJ to a fluent Pashto local guy and I guess it created a lot of buzz as this was never tapped into before and that was the beginning of all good things to come," says VJ-turned-actor Wiqar Ali Khan, who has worn many hats and gladly continues to do so. With his chiseled features and slick gelled-back look, Khan personifies a multi-faceted Pashtun in the world of showbiz. Someone who plays rural conservative characters on TV and also serves as the host of beauty pageants.




It is funny, he adds, because even to this day, when he bumps into Pathans, they say, "marra tu kho engrais yeh ta kha pukhtu cumzay isdako?" ("You're an English guy, where did you learn such good Pashto?") "It is always an honour to represent my community through my work. At the end of the day, it is who I am and I can add value to the Pashtun identity, then I am quite fortunate and grateful," says Khan, who is a Yusufzai Pathan from Barikot, Swat.

He observes that there is no denying that Pashtuns have been targeted and stereotyped in the media for decades, but that isn't the case anymore.




"Our media has come a long way and the audience is more aware now. You can take a simple example from the Hollywood executives at Disney who named the most attractive and feared animal in the jungle, the tiger, 'Sher Khan' in Jungle Book, which is synonymous with the Pashtun's traits of beauty, brawn and bravery."

Pashtuns' story has been nothing short of remarkable, he adds, from Yusuf Khan aka Dilip Kumar conquering Bollywood to the current Khans. "Also, taking Pakistan to World Cup victories from cricket, squash and hockey." Nuclear physicist AQ Khan and Malala Yusufzai are also pathans. Pushto is also the fourth language to be spoken in space. So it's unfair to generalise all of us under the same umbrella, he points out.

"If people believe that I've made a contribution to the media and the fashion industry then imagine the ocean of talent who could do more than me if given the right platform," says Khan, adding that he was lucky to be given an opportunity because he was told that he would not succeed, as he couldn't speak in Urdu. "However, when my TV show started, it got a huge response from Pashtuns and non-Pashtuns respectively. Hopefully more doors open and equal opportunities are given to my people."




Following two successful years as vice president at MTV Pakistan, he left a few years before it went off-air, as he was commissioned by the Abu Dhabi Sheikh Mubarak Al Nahyan to head and launch a multimedia company in Lahore. "I spent two years creating an infrastructure for a bouquet of TV channels, which unfortunately never saw the light of day," he says.

Speaking about his experience in the upcoming film Jalaibee, he says that he does not come from a family of actors nor does he have formal training in this area. "I feel fortunate to have been part of an energetic, dynamic and extremely talented team," he says, adding that he was somewhat daunted by acting with such an experienced cast, the crew including Tarantino-style director Yasir Jaswal and producer Murtaza Shah were extremely supportive. It was a real challenge, he said, that taught him to deliver dialogues in an Urdu accent rather than a "mish-mash" of Pashto and English, which he jokes, was providing free entertainment to the team.

Moreover, Khan also acted in a television series, Aag scripted by Jamal Shah. "I had to play a non-glamorous, illiterate villager that motivated me to accept the role. It was an absolute honour to be asked by a Pathan brother and such a prominent figure from the media industry to play the lead role alongside him," he said. The play is currently airing on Playmax TV.

Published in The Express Tribune, January 18th, 2015.

Like Life & Style on Facebook, follow @ETLifeandStyle on Twitter for the latest in fashion, gossip and entertainment.