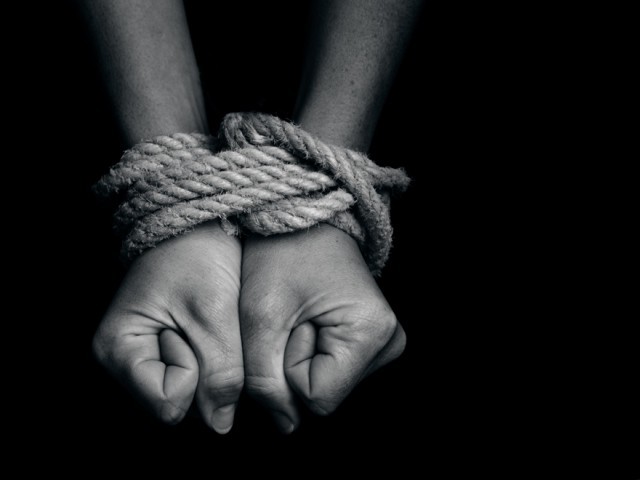 ---
LAHORE: A young girl was allegedly kidnapped by her father, cousin and other relatives from outside the Supreme Court Registry moments after her arrival at the Lahore High Court (LHC) on Thursday to record her statement in a case of free-will marriage.

One of the eyewitnesses told The Express Tribune that when the girl, a resident of Sabzazar area, reached LHC in the morning her family started beating the couple. In the ruckus that ensued, they kidnapped the girl and sent her to an unknown place in a rickshaw.

Moments later, people and lawyers witnessing the scene grabbed hold of the girl's father and cousin and handed them over to the police.

Muhammad Sarwar, father of the girl, told The Express Tribune that his daughter is 14 years old and insisted that he had no hand in her kidnapping. "But the family of the boy must have kidnapped her to weaken the case," he claimed.

On the other hand, Zulfikar Ali, the girl's husband, said the age of his wife is 19 and "we had a love marriage last month". This, he said, had upset the girl's family.

"We came here to register our statements at the [Lahore] High Court. When they (girl's family) started thrashing us, my wife suddenly went missing," he said.

The family of the girl had already registered an FIR of kidnapping against Ali at the Sabzazar police station about a month ago, according to her close relative.

SHO Old Anarkali Inspector Tariq Zafar said an FIR has been registered against the girl's father Muhammad Sarwar, three brothers Muhammad Ashraf, Muhammad Arshad and Muhammad Aslam and her cousin Allah Rakha.

DSP Mian Liaquat said they are investigating the matter and recording statements of eyewitnesses, adding that "police are also checking if they were married or not."

Published in The Express Tribune, January 16th, 2015.
COMMENTS
Comments are moderated and generally will be posted if they are on-topic and not abusive.
For more information, please see our Comments FAQ