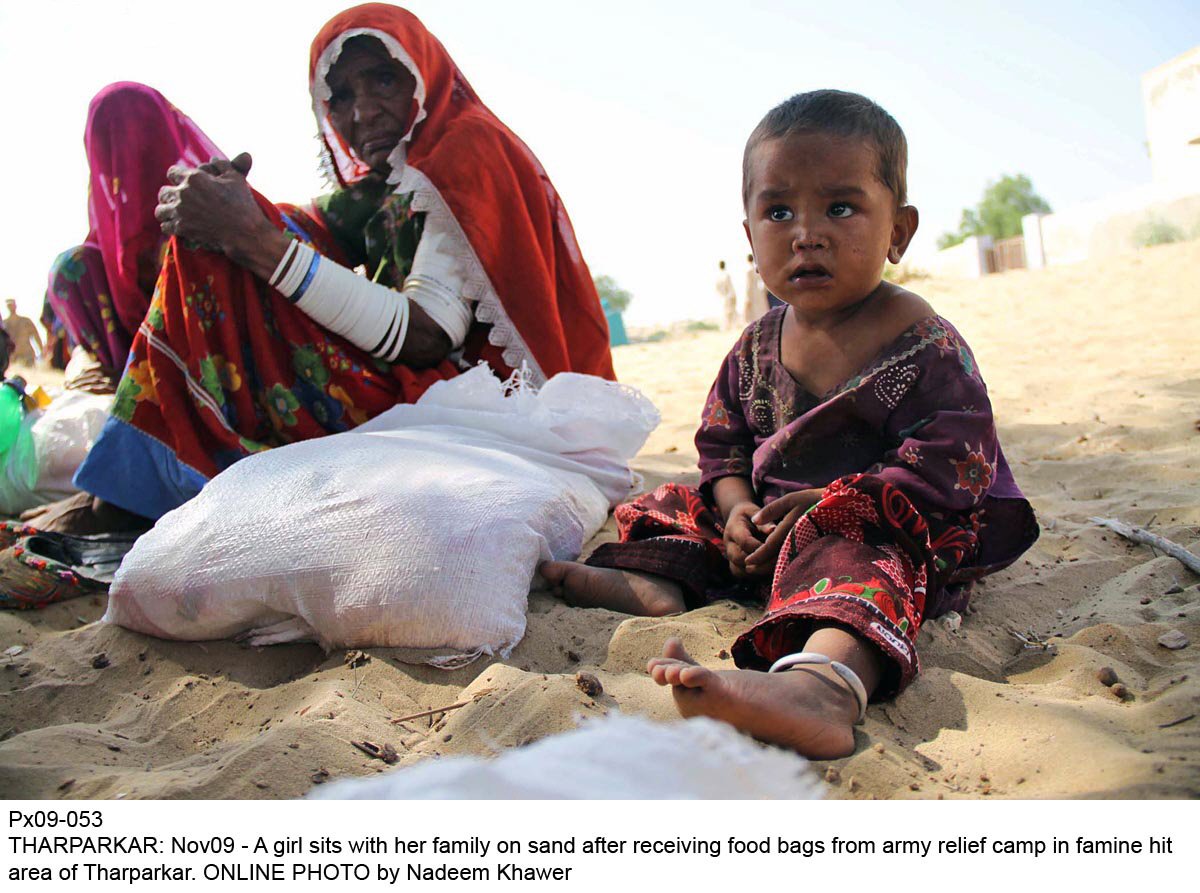 ---
ISLAMABAD: Children are dying all over the country for lack of medical facilities and food supplies. Yet no-one is taking their plight seriously.

"I lost my three children due to lack of neonatal resources, but no one has helped me so far," said Prem Chandar, 34, who lost his third baby due to malnutrition in the Goth Haryar village of Mithi, Tharparkar, last month. "Our children are dying due to starvation. Is it not strange? We are a nuclear power but our children do not have sufficient food to eat."




Chandar's newborn lived only three days. Like the parents of 964 children who died in their infancy, Chandar was unable to save his child.

Figures obtained from multiple governmental and non-governmental organisations by The Express Tribune reveal that around 352,000 children who are under the age of five die every year in the country. Chandar, with his wife Sanjhari and two sick children, migrated to Mithi town in the hope to save them at a time when more than 330 children died due to malnutrition in Sindh, particularly in Tharparkar, this year. More than 1,800 children have died of measles and other epidemics in Punjab, Sindh, Khyber-Pakhtunkhwa (K-P) and Balochistan this year, figures reveal.

Pakistan has the highest rate of first-day deaths and stillbirths at 40.7 per 1,000 births, and 28,000 mothers die every year during childbirth, show reports prepared by the PDH Survey, the World Health Organisation and Save the Children and United Nations' Children Fund. More than 204, 542 children died within 28 days only, the figures show.

According to the PDH Survey 2006-07, Pakistani children are more likely to die young in rural areas.

Instead of decrease, this dismal rate had been static at 55 per 1,000 live births in 2012-13, said Arshad Mahmood, Director Advocacy and Child Rights Governance. "The first moments of a child's life are the most dangerous, yet almost 50 per cent mothers give birth without any skilled help in Pakistan. It's tragic that many of these 200,000 annual newborn deaths in Pakistan could be averted simply by having someone around to make sure the birth took place safely."

Experts said the federal and provincial governments should prioritise newborn health, come up with newborn health strategies and make budgetary allocations for health and nutrition, he added. Unfortunately, provincial health and child welfare departments were unable to provide any data about deaths of children in provinces.

Senior officials at the Child Protection and Welfare Bureau Punjab and K-P, and the Sindh Social Welfare Department for Children also revealed that they are yet to call any meeting on the recent deaths of children dying due to measles and malnutrition in Sindh, Balochistan and Punjab.

A Pakistan Peoples Party MNA, who is also a member of the standing committee on health, admitted that they had not called any meeting on children's deaths in Tharparkar or in Awaran district of Balochistan without explaining the reasons. He, however, claimed that the Sindh government had taken up this issue as an emergency.

Pakistan Muslim League-Nawaz MNA Maiza Hameed, who admitted that child mortality rate in Pakistan, remains unchanged since 1994, claimed that the government was vigilant regarding health issues. Hameed was hopeful that lawmakers would take up this issue in parliament.

Experts stress upon the implementation of the National Health Programme 2010-15. They believe the National Programme for Family Planning and Primary Healthcare could not meet its goals due to scarcity of funds and manpower.

According to the official data, around 120,000 lady health workers (LHWs) are currently working and the LHW programme which can help save lives of mothers and infants needs Rs77 billion to achieve its goals.

"In order to ensure that a skilled birth attendant is present for every mother giving birth, 15,000 Community Midwives are required to be deployed in Punjab and Sindh each," observed Dr Nand Lal, Incharge Child Department, Hyderabad Civil Hospital. Poverty in Balochistan, southern Punjab and interior Sindh was a major stumbling block in achieving goals of better health services. He urged the WHO and Unicef to restart their child welfare programmes in Pakistan.

Idara-e-Taleem-o-Aagahi's regional manager for Punjab, Farhan Amir, claimed that around 300 children had died of poor health services in five districts of southern Punjab. Thousands of children are suffering from diarrhea, infections and eye problems due to natural calamities like floods, he added.

"We have barely eaten in days and I am worried about my children. But there are no medicines and no dispensary within a day's walk," he observed. He blamed the government for not taking any steps for the protection of children in poorer districts of Punjab.

Published in The Express Tribune, January 7th, 2014.