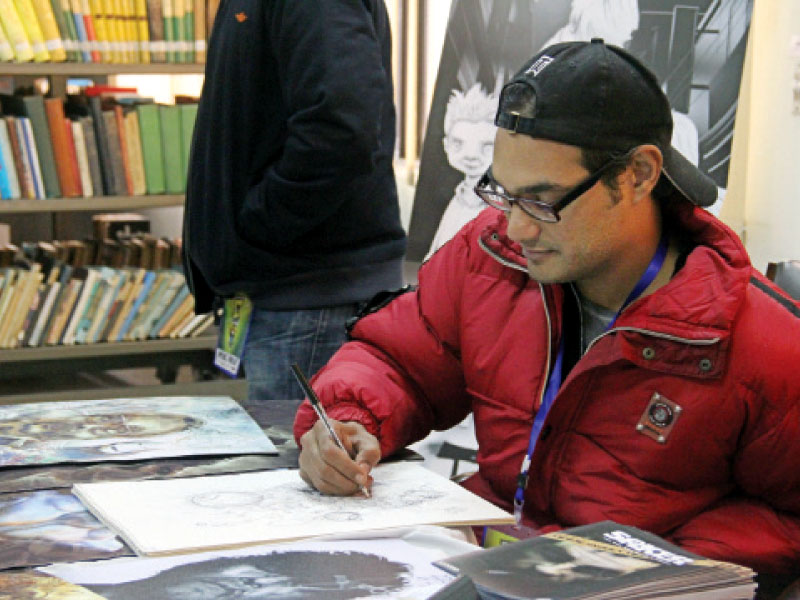 ---
LAHORE:



Scores of comic books enthusiasts and creators came together on the second floor of Defence Public Library Complex on the opening day of Pakistan's first Comic Con on Saturday.




Tables had been set up where artists exhibited their work. As per comic con tradition, some people were dressed as their favourite characters from various comics.

The mother-son duo behind the first Pakistani Comic Con Mud Toonz Comics and Cartoons founder Shagufta Nasreen Butt and Mudassar Butt, the chief designer and CEO of the company, told The Express Tribune that it had taken them eight months to put the event together.

"I floated the idea and Mudassar worked on it," said Nasreen, who is a National College of Arts graduate from the class of 1972.

She said comics produced by her company talks about "taleem and tarbiyat" (education and upbringing).

Muddasar said he got had contacted many comic artists as he could find in Pakistan so they could interact at the event.

"Comics are a largely untapped market in Pakistan," he said.

He said the comics industry was worth trillions of dollars globally.

He said it was essential for artists to collaborate and interact at such events to develop a better understanding of each other and of the audience.

He said he had never been to a comic con but had collaborated with promoters from San Diego, New York and Wizard Con.

The Lost Gem of Mohenjodaro

Rahil Ahmad Khan, a character designer and concept artist from Karachi, learnt about Comic Con Lahore through Facebook.

"At first I wasn't sure if this was really a comic con or a random event," he said.

He said once he got in touch with Mudassar, he was instantly persuaded about joining.

A graduate from Karachi University in 2009, Khan said he taught illustration and drawing at the same university.

He said one of the comic book series he was working on included The Lost Gem of Mohenjodaro.

"A boy visits Mohenjodaro and finds a secret passage. Inside, he finds a gem that allows one to travel back in time when it touches water," he explained.

He said the story was about the boy's adventures as he was transported back to Mohenjodaro's past.

Pointing to posters and illustrations at his stall, Khan said the book would be ready for publication in seven months.

Aliens in the Pind

Zain Naqvi, an NCA graduate from Islamabad had brought with him some commercial concepts (Batman and Harley Quinn) and also showed what he is currently working on.

"Aliens in the Pind is a Punjabi love story in the time of an alien invasion," he said.

"In comic books from the West, aliens mostly invade New York, but never Sahiwal or Multan," he said. "In this story, aliens come to Pind and steal the protagonist's lota and take away his beloved (Preeto). All hell breaks loose then," he said.

Commenting on his reaction when he first heard of a comic con in Pakistan, he said he had wanted to cry with joy.

Blood Lines

Mehran Khan and Hamza Butt showcased their comic book series Blood Lines.

"The series has been launched online. Now we are planning a nationwide launch," said Butt.

He said they had been inspired by Berserk and Lord of the Rings.

"We want to explore fantasy as a genre and bring Pakistani culture to such stories," he said.

He said he had worked on the concept for over a year, and Khan had done the illustrations.

Bloody Nasreen

Lucid Concepts co-founder and art director Anas Riasat had brought a team of five from Karachi to interact with the crowd.

The artists made sketches and answered questions.

Among them was Shahan Zaidi, the creator of Bloody Nasreen.

He said a movie had been signed on Bloody Nasreen for 2017 and a graphic novel was in progress.

Raed Toosy, a visitor at the Comic Con, said that he had enjoyed the work of the artists he met there.

"Though the event was small, it was wonderful to meet with fellow comic book enthusiasts and creators," he said. "I hope this event gets bigger every year," said Raed Toosy.

The event will end on Sunday (today). Tickets are available for Rs50.

Published in The Express Tribune, December 28th, 2014.
COMMENTS
Comments are moderated and generally will be posted if they are on-topic and not abusive.
For more information, please see our Comments FAQ