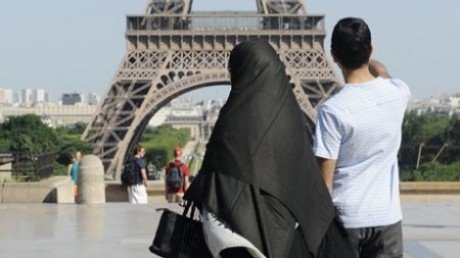 ---
PARIS: The French government is drawing up a law to ban the full-face Islamic veil from all public spaces, despite a warning from experts that it could face a legal challenge, a spokesman said on Wednesday.

The spokesman for President Nicolas Sarkozy's government, Luc Chatel, said the bill would be presented to ministers in May and would go beyond a mere ban on women wearing the niqab and the burqa while dealing with French officials. "We're legislating for the future. Wearing a full veil is a sign of a community closing in on itself and a rejection of our values," he said.

Last month, the State Council -- France's top administrative authority -- warned Sarkozy against a full ban on the veil, suggesting instead an order that women uncover their faces for identity checks or for state business."

It appears to the State Council that a general and absolute ban on the full veil as such can have no incontestable judicial basis," the council said, suggesting that a full ban could fall victim to judicial review.

But there remains broad support in parliament for such a ban and the government is determined to press on with a law, which it says would affect only around 2,000 Muslim French women who currently cover their faces.

According to Chatel, Sarkozy told Wednesday's cabinet meeting that the veil was an "assault on women's dignity". The vast majority of Muslim women, in France and elsewhere, do not wear a full veil, but the niqab, which covers the face apart from the eyes, is widely worn on the Arabian peninsular and in the Gulf states.

The burqa, a shapeless full-body cloak that covers the face with a fabric grille, is worn in some areas of Pakistan and Afghanistan. In France, the garments are widely identified with fundamentalist strains of Islam and with the isolation and repression of women in some communities, and politicians suspect their use is spreading.

"We're not going to let this phenomenon drift," Chatel said. France's neighbour Belgium is also preparing legislation, and could become the first European country to ban the full veil when a bill goes before parliament during a plenary session that starts on Thursday.
COMMENTS (10)
Comments are moderated and generally will be posted if they are on-topic and not abusive.
For more information, please see our Comments FAQ