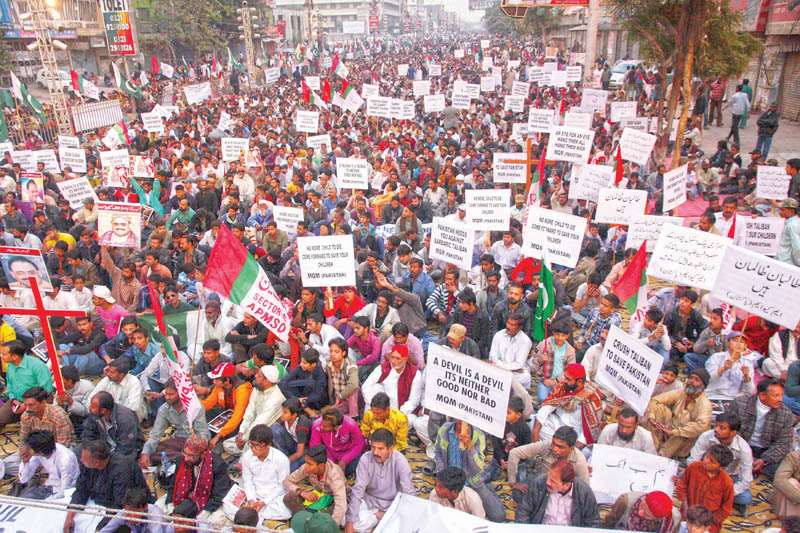 ---
KARACHI: The Muttahida Qaumi Movement (MQM) chief Altaf Hussain urged the law enforcement agencies to expand their operation against terrorists across the country.

"Taliban and their supporters are present all over the country," he said. "Operation Zarb-e-Azb should be carried out in other parts [of the country], too." He called for the arrest of Maulana Abdul Aziz, the cleric of Lal Masjid, for sympathising with the Taliban and demanded the army burn or close down Jamia Hafsa.




Hussain was addressing a large gathering of his workers at Tibet Centre as part of the MQM's 'National Solidarity Rally' organised in support of the Pakistan Army and the Peshawar victims, and against the terrorists. "If Pakistan has to be saved, then Taliban need to be eliminated," he said, calling the Taliban 'beasts', 'terrorists', and 'infidels'.

Addressing the militants, he said that the MQM will fight against them. "We will all die but won't let you live," he said, adding that if schools are attacked in Karachi, then the people would come out and fight against them.

The MQM chief paid tribute to the Army for fighting against the terrorists, and expressed solidarity with the families of the victims. "Imagine, if your younger brother or son was the one to be killed and you were waiting for him to return," he said addressing the gathering, his tone turning emotional. He said that the rally was not of the MQM alone, but represented the whole country.

Published in The Express Tribune, December 20th, 2014.