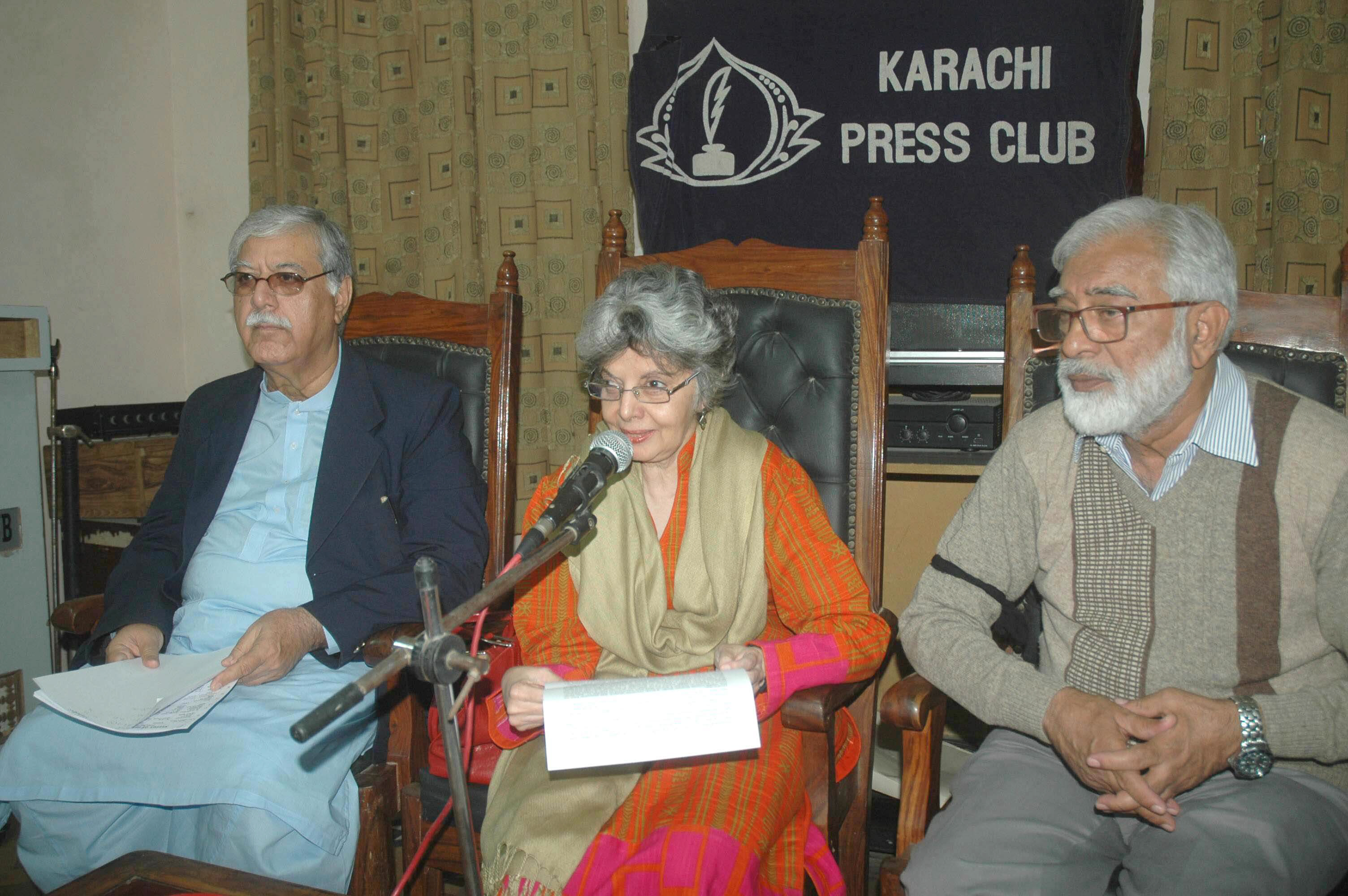 ---
KARACHI: Expressing concern over the increasing number of missing persons and dumped bodies in Sindh in recent days, the joint action committee of civil society and human rights activists called for an end to this trend of 'extrajudicial killings'.

The committee, which comprises 43 civil society organisations and non-governmental organisations such as Human Rights Commission of Pakistan (HRCP), Aurat Foundation and Pakistan Institute of Labour Education and Research (Piler), held a press conference at Karachi Press Club on Friday afternoon.




HRCP chairperson Zohra Yousuf said that the commission has found evidence of involvement of security agencies of Pakistan behind the abduction of people from Karachi, Hyderabad and rural Sindh.

She expressed concerns over the bodies of missing people bearing torture marks thrown in different areas. "If someone has committed a crime, he should be treated in accordance with the law and courts should decide their cases," she said, adding that the 'extrajudicial killings' of people is giving birth to a sense of insecurity among people.

HRCP vice-chairperson Asad Iqbal Butt said that by targeting Sindhi youth, the agencies are pushing them towards the extremist nationalist groups which will not bear positive results.

"To counter nationalism inside Sindh, religious extremism is being promoted and we consider it wrong," he said, adding that the use of force and extrajudicial killings is also promoting the culture of guns. As a result, people's trust on government, judiciary, law and democracy is going down, he said.




The activists called for an end to the extrajudicial killing and abduction of the political parties activists. Butt further said that 112 people from Sindh, including Karachi and Hyderabad, were missing and 27 bodies of these missing persons have been found in different areas of the province.

Out of the 27 bodies found, three could not be identified, he said, adding political activists of nationalist parties, Muttahida Qaumi Movement and Pakistan Peoples Party are among the missing persons.

Criticising the role of the security agencies, he referred to the situations of Balochistan and Khyber-Pakhtunkhwa which have brought miseries to the country. "If organisations which are for our security start targeting their own people then where will the public go for justice?" he asked.

Other speakers, such as Piler executive director Karamat Ali, called for bringing reformation in police system and the criminal justice system. They reiterated their demand that security agencies personnel should work in accordance with the law.

Published in The Express Tribune, December 20th, 2014.

 
COMMENTS
Comments are moderated and generally will be posted if they are on-topic and not abusive.
For more information, please see our Comments FAQ