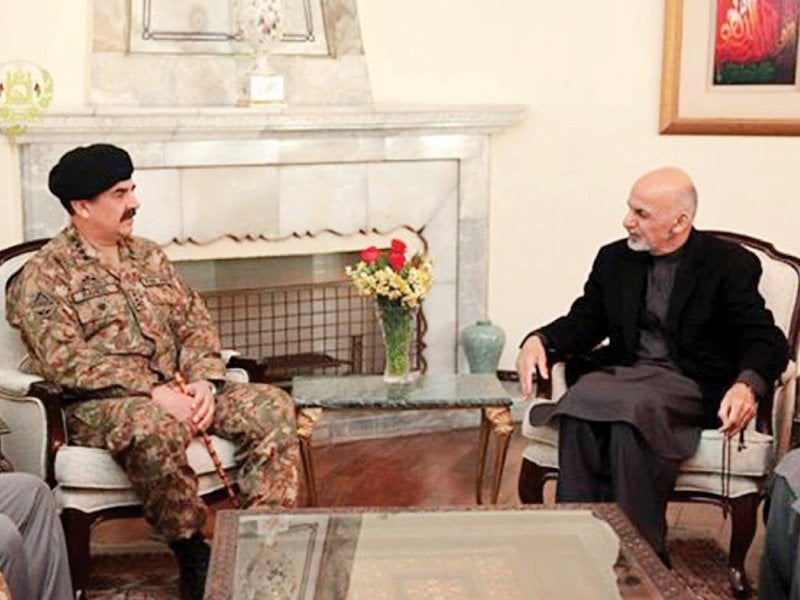 ---
ISLAMABAD:



Pakistan has secured a crucial assurance from Kabul and the US-led International Security Assistance Force (Isaf) regarding elimination of sanctuaries of the Tehreek-e-Taliban Pakistan (TTP) on Afghan soil a day after the grisly violence at the Army Public School and College in Peshawar.




The assurance was given by Afghan President Ashraf Ghani and Isaf Commander General John F Campbell to army chief General Raheel Sharif, who rushed to Kabul on Wednesday to discuss the implications of the massacre of 148 people, mostly children.

But it came only after Gen Raheel warned that his country would be compelled to end anti-terror cooperation with Afghanistan if 'decisive and prompt' action was not taken against the TTP hideouts and the group's fugitive chief Mullah Fazlullah inside Afghanistan, said a security official.

The army chief, who was also accompanied by Inter-Services Intelligence (ISI) Director General Lt-Gen Rizwan Akhtar, handed Afghan and Isaf officials 'dossier' containing evidence linking Tuesday's dastardly attack with the TTP safe havens inside Afghanistan.

The official told The Express Tribune that intelligence information was shared with Afghan authorities and Isaf about involvement of the Mullah Fazllulah group in the Peshawar terrorist attack. He added that Gen Raheel told the Afghan president that Pakistan's military could eliminate TTP sanctuaries in Kunar and Nuristan on its own but was showing restraint due to Afghanistan's sovereignty and territorial integrity.

The Express Tribune has learnt that a possibility of joint operation against TTP sanctuaries was also discussed. Sources revealed that the army chief offered Pakistan's help in eliminating terrorists if Afghan security forces face any capacity issues.

A statement issued by the Inter-Services Public Relations (ISPR) confirmed that 'vital elements of intelligence' were shared with Afghan authorities regarding the Peshawar attack. The military's media wing said the Afghan president assured Gen Raheel that the use of Afghanistan's soil for terrorist activities against Pakistan would not be allowed and any signature found in this regard would be immediately eliminated.

The Isaf commander also assured Gen Raheel of his complete support in eliminating terrorists in his area of responsibility, the statement added. The army chief on his part assured the Afghan president of full support to the unity government in all spheres, including joint efforts against terrorists.

On his return, the army chief met Prime Minister Nawaz Sharif in Peshawar and briefed him about the outcome of his crucial talks with the Afghan leadership as well as the Isaf commander.

Published in The Express Tribune, December 18th, 2014.