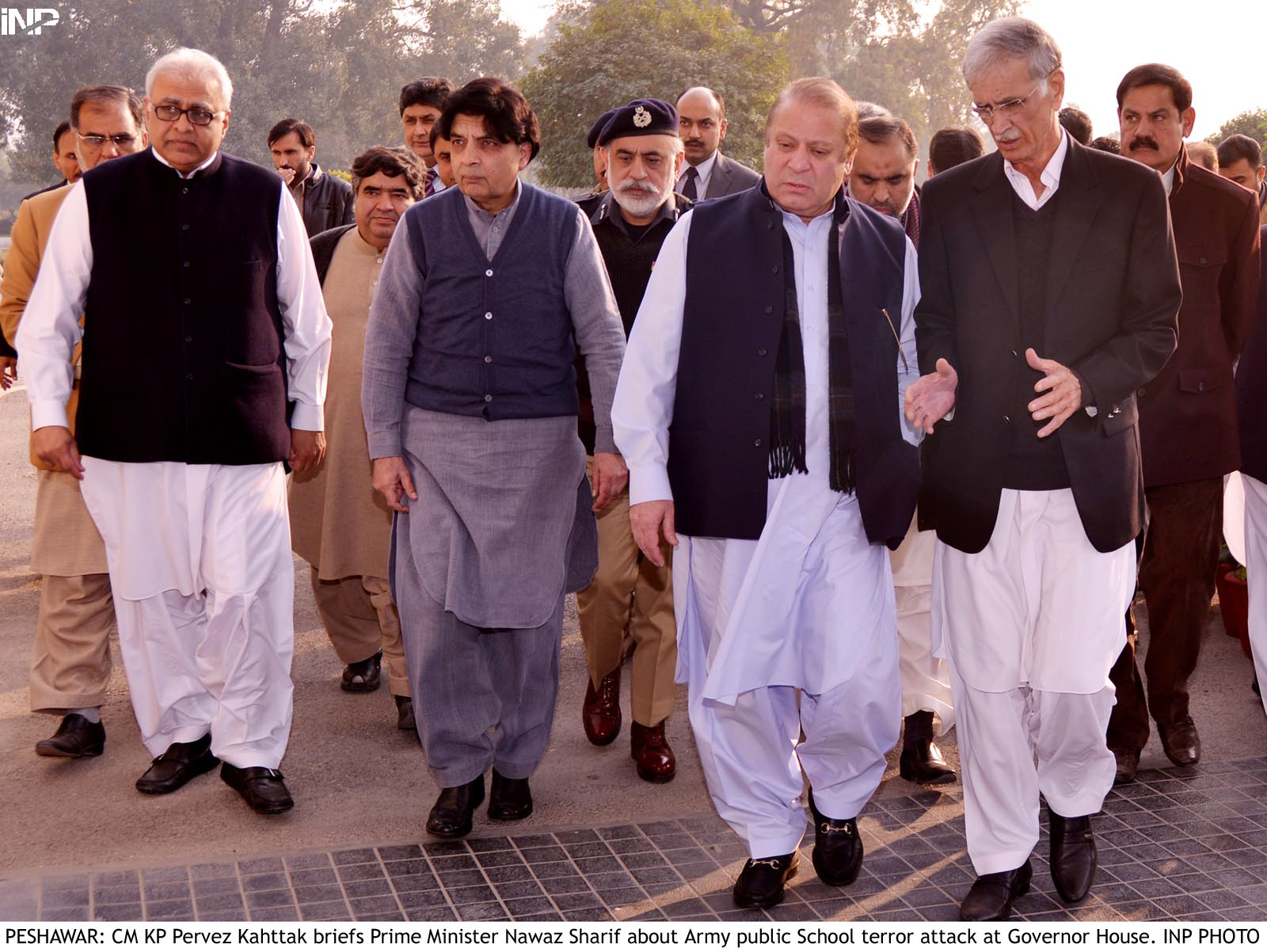 ---
PESHAWAR: Political leaders in Khyber-Pakhtunkhwa, including members of ANP, PTI, JI, AJIP, QWP, and PML-Q, called the Army Public School terror attack a turning point in the country and said lessons must be learnt to make positive changes in security and foreign policies.

Party representatives expressed these views while speaking at the Express Forum on Wednesday.

K-P Senior Minister and Awami Jamhoori Ittehad Pakistan (AJIP) Chairman Shahram Khan Tarakai said the attack was a tragedy of a global scale. He added children, teachers and women are spared even in war, but those responsible for the incident in Peshawar were inhumane.

The Provincial Chief of Qaumi Watan Party Sikandar Hayat Sherpao strongly condemned the Peshawar attack, pointing out it was the first time in history that children were especially targeted. He termed it the worst attack in Pakistan's history.




ANP Parliamentary Leader in the K-P Assembly Sardar Hussain Babak said the whole of Pakistan was mourning over the Peshawar incident. He said militants targeted jirga elders, women, speakers and literary figures in a phase-wise manner. "It is surprising that we are all over the place, yet the militants are very organised and united."

Pakistan Tehreek-e-Insaf MPA Shaukat Yousafzai said that the government wanted to eradicate militancy through peace and negotiation, but when Operation Zarb-e-Azb was launched in North Waziristan, it was necessary to make strict security arrangements in K-P. He argued the province was exposed to both Fata and Afghanistan.

He appreciated Prime Minister Nawaz Sharif's initiative to convene an all-parties conference in the province.

Security expert Brigadier (retd) Mehmood Shah said people in the APS attack were "wild creatures". He said such elements want to govern by creating terror among the people. He added that notwithstanding Tuesday's incident, terrorism incidents have decreased across the country after Operation Zarb-e-Azb and Khyber-I in Fata.

ANP Central General Secretary Mian Iftikhar Hussain said that he was more worried about the children who survived the attack. He said they could potentially lose their senses and become like stone.

K-P PML-Q Chief Intikhab Chamkani also condemned the incident and asked the government to revisit its security policies. K-P JI chief Prof Ibrahim said it would be completely incorrect to term such terror activity as jihad. "It was an inhumane act and no religion on Earth permits such brutality."

Published in The Express Tribune, December 18th, 2014.