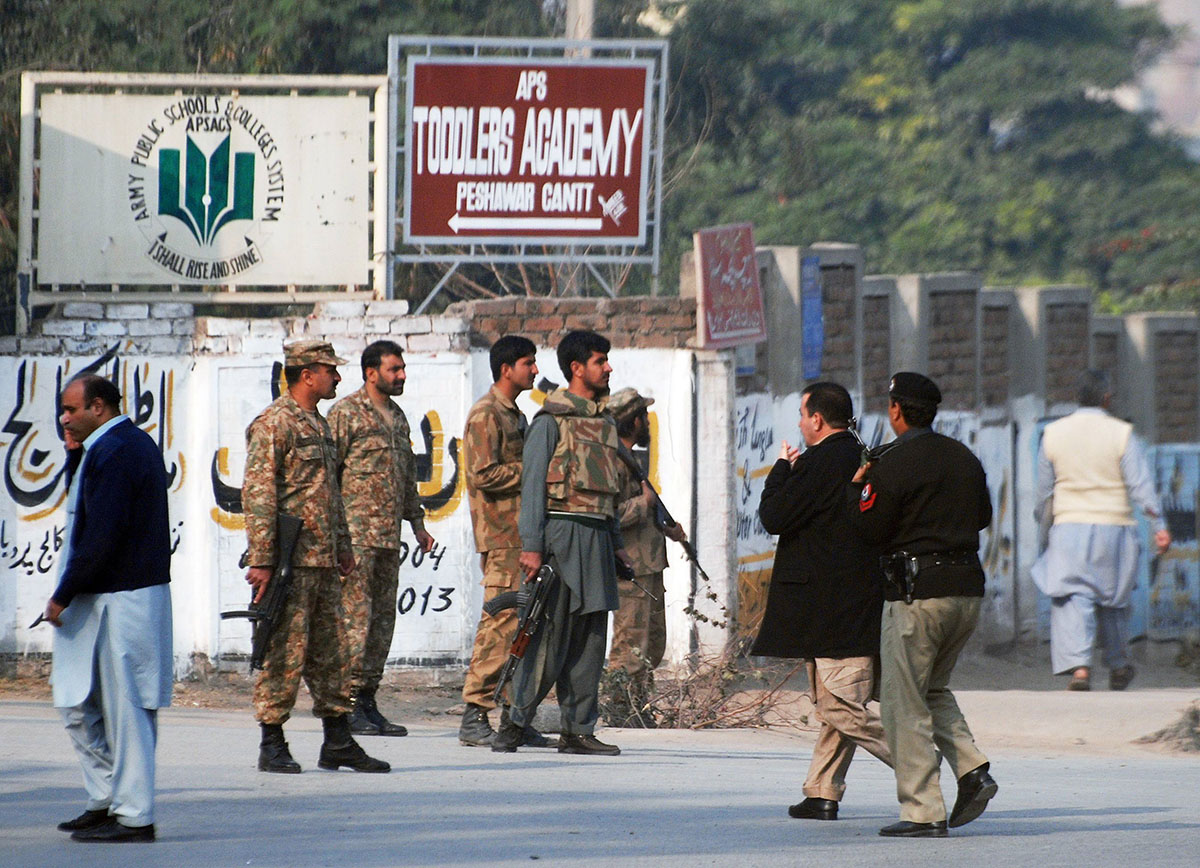 ---
As news of the attack on the Army Public School in Peshawar spread on Tuesday, people from around the world tuned into to social media sites for information and to vent out their feelings.

With words not sufficient, many changed their display pictures to a patch of solid black colour to mourn the tragedy.


Black boards to white coffins.... The darkest day in the history of Pakistan

— Shiraz Hassan (@ShirazHassan) December 16, 2014
"A newsfeed of endless black squares - but after the solidarity, then..." a Facebook status. #Peshawar

— Benazir Shah (@Benazir_Shah) December 16, 2014


https://twitter.com/sark_10/status/544863541463748608


Plz ask every1 to wear Black Bands, be at schools, colleges, offices to show our solidarity with the victims @Fahdhusain @SaleemFarrukh

— Umer Mallick (@Umer_Mallick) December 16, 2014
Seeing Pakistan friends and family turn their FB profiles into black slates

— Mishal Husain (@MishalHusain) December 16, 2014


#PeshawarAttack quickly became the topmost trending hashtag across the world with over 350,000 tweets and statements from people, heads of state and celebrities.


Still have nothing to say. Mixture of hurt, anger, despair, defeat, impotence, outrage, cynicism, hope, defeat. #RinseRepeat #PeshawarAttack

— Shaheryar Mirza (@mirza9) December 16, 2014


https://twitter.com/1DsUniverse/status/544916484284497920

https://twitter.com/iamRaniMukherji/status/544911421490741249


Every time I think of #PeshawarAttack I loose my child. Unbearable grief and helplessness.

— Bey Noon (@beynoon) December 16, 2014
We do not realise the magnitude of this, we never can. This is in the most simple meaning of the word...insane #PeshawarAttack

— Farah Batool (@batool_farah) December 16, 2014


The tragedy also saw one of the oldest rivalries in the subcontinent being put aside to show solidarity.

Tehseen Poonawala, hailing from Pune, started the hashtag #IndiaWithPakistan


Cause children of Pakistan are like children of my India. And they do not deserve this. Shame on u Taliban. Let's Hashtag#IndiawithPakistan

— Tehseen Poonawalla Official (@tehseenp) December 16, 2014


It soon went viral among Indians and Pakistanis who set aside their animosity for their neighbour to express shock, disbelief and grief over the Taliban attack which left at least 141 people dead including 132 children and nine staffers.

It was soon trending with over 21,000 tweets so far. Here are some of the top tweets:


#IndiaWithPakistan We are sorry, babies. We couldn't even provide you the security of life. It's not about Pakistan but humanity.

— Shraddha Meer (श्रद्धा/‏‎شردّھا) (@Shraddha48) December 16, 2014
#IndiaWithPakistan because no politics, religion, ideology is above the need to share the grief of Peshawar's parents

— Shivam Vij (@DilliDurAst) December 16, 2014
Thank u #India for showing solidarity on this dark day. Till today 16 Dec marked our animosity hope today changes that #IndiawithPakistan

— M. Jibran Nasir (@MJibranNasir) December 16, 2014
Indians show solidarity with Pakistan after #PeshawarAttack with #IndiawithPakistan. http://t.co/cibVf8O9Is pic.twitter.com/tKwpwLFdkt #BBC

— Friends of Congress (@friendscongress) December 16, 2014
Thank You Indian friends for raising your Voice considering human values #IndiaWithPakistan

— Fahad (@RazaFahad_) December 16, 2014
Appreciate the outreach by the Indian community on this tragic day #IndiawithPakistan thank you for sharing our grief

— Awab Alvi (@DrAwab) December 16, 2014