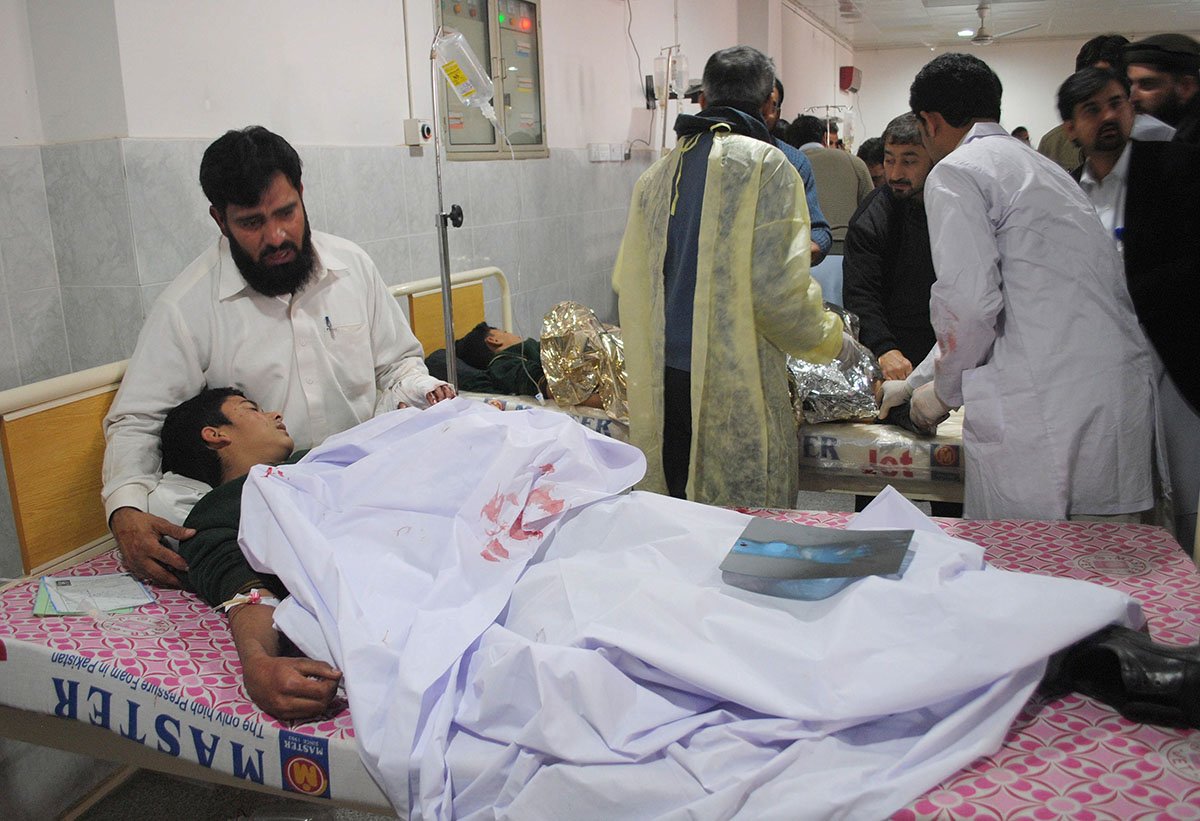 ---
PESHAWAR: As bullets flew in the Army Public school in Peshawar on Tuesday, a grade eight student sat with a bullet in his chest and consoled his mother on the phone that he was all right, and unhurt.

The student, Osama, told The Express Tribune that his parents could not reach him, since they lived on Warsak Road, which had been blocked for all kinds of traffic. So he talked to them on the phone while avoiding detection from the militants.

"I told mama on the phone that I am safe and not hit, but I had received a bullet right in the chest."

He added that his friends had been shot, some of them in the face.

Khalid Khan, 13, told Reuters the he and his class mates were attending a first aid lesson in the main hall when two clean-shaven armed men wearing white clothes and black jackets entered the room. "They opened fire at the students and then went out. The army doctor and soldiers managed to escape and we locked the doors from inside," he said.

"But very soon they came, broke the doors and entered and again started firing."

He said many of the students tried to hide under their desks but were shot anyway, adding that there were around 150 students in the hall around the time of the attack.

"They killed most of my class mates and then I didn't know what happened as I was brought to the hospital," said Khan, breaking down in sobs.

Others said the gunmen addressed each other in a language they could only recognise as either Arabic or Farsi - a possible testament to the Taliban's network of hundreds of foreign fighters.

Another student, Jalal Ahmed, 15, could hardly speak, choking with tears, as Reuters approached him at one of the hospitals. "I am a biochemistry student and I was attending a lecture in our main hall. There are five doors in the hall. After some time we heard someone kicking the back doors. There were gunshots but our teacher told us to be quiet and calmed us down.

"Then the men came with big guns." Ahmed started to cry. Standing next to his bed, his father, Mushtaq Ahmed, said: "He keeps screaming: 'take me home, take me home, they will come back and kill me'."

One nine-year-old boy, who asked not to be named because he was too afraid to be identified, said teachers shepherded his class out through a back door as soon as the shooting began.

"The teacher asked us to recite from the Quran quietly," he said. "When we came out from the back door there was a crowd of parents who were crying. When I saw my father he was also crying."

For previous eyewitness accounts read here and here.