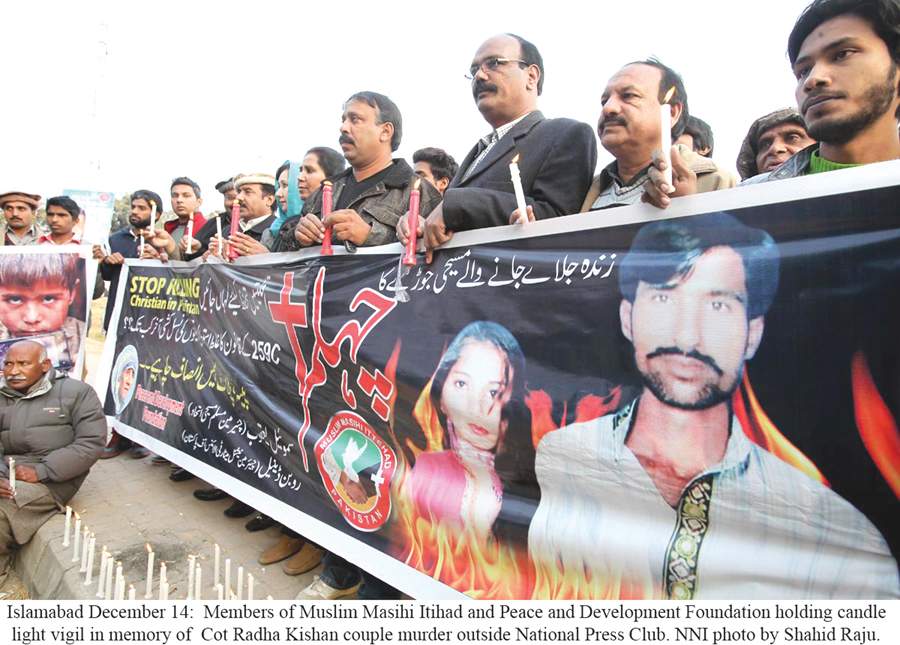 ---
ISLAMABAD: Muslims, Christians and Hindus lit candles outside the National Press Club on Sunday evening to mark 40 days of the brutal killing of a Christian couple in  Kot Radha Kishan on November 4.

Members of civil society and the Hazara community also participated in the vigil, which was organised by the Muslim Masihi Ittehad.

Chairman National Minority Alliance of Pakistan Robin Daniel said that the purpose of arranging the vigil was to demand justice for the victims. He said the government was not interested in bringing the culprits to justice, in a case which he said had terrified the minorities.

"Why is the government silent on the matter? This is criminal negligence on part of the government," Daniel said. He appealed to the public to come forward and raise voice for the protection of minorities in the country. "If we want to progress we will have to give our minorities confidence, justice and protection."

He feared that the culprits would be set free, as in so many other cases. "We demand an end to misuse of the blasphemy law. There should be legislation to stop misuse of the law, and the government must not allow people to take law into their own hands," he said.

Peace and Foundation Executive Director Romana Bashir said they would hold a protest demonstration outside UN offices against the incident on December 25. She said the government must crack down on incitement of hatred and enforce its loudspeaker regulations.

Fatima, a Hazara participant of the vigil, deplored violence in the name of religion. She demanded an end to impunity for the killers and mob justice.

"Our silence is of sorrow and anger and not that of acquiescence," said Muslim Masehi Ittehad Chairman Sameul Yaqub. "We cannot wait for the next incident to happen. We will pressurise the government to take result oriented steps," he said.

He said the Christian community wants justice and not the government plots or money. He regretted that they did not have a "genuine representative who could raise this issue in the parliament".

Yaqub urged religious leaders and scholars to play role to promote interfaith harmony in society.

Published in The Express Tribune, December 15th, 2014.
COMMENTS (2)
Comments are moderated and generally will be posted if they are on-topic and not abusive.
For more information, please see our Comments FAQ