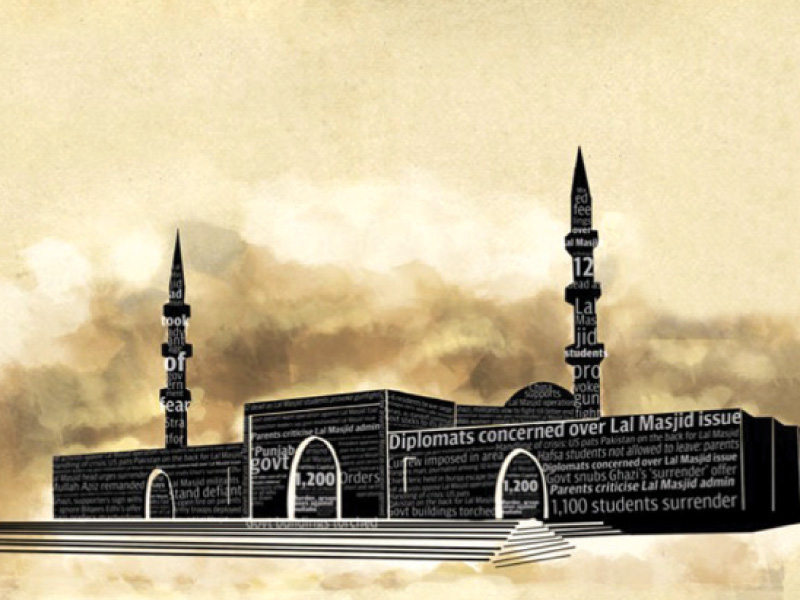 ---
ISLAMABAD: Lal Masjid's clerics took the Islamabad administration to court for detaining their spokesperson in connection with declaration of support by the students of the seminary for the Islamic State (IS) led by Abu Bakar al Baghdadi.

Ihtesham Ahmad, trustee and spokesman of seminary's Shohada Foundation, filed a petition in the Islamabad High Court against his detention by the capital police, requesting the court to restrain the police from harassing him and other members of the foundation.

A video in Arabic was released on November 26 by the Jamia Hafsa students declaring their support for the Islamic State and Baghdadi besides asking the Pakistani militants to join hands with IS fighters.

The principal of the seminary, Umme Hassan, reportedly endorsed this action, saying that the girls were justified in declaring support for the Islamic State, because no one came to their rescue when they were attacked and humiliated like enemies in July 2007.

The petitioner, however, denied media reports regarding Umme Hassan's endorsement for IS.

A press statement issued by the foundation clarified that "since the courts had failed to impart justice, the students of Jamia Hafsa and Lal Masjid in desperation issued the video addressing Daesh to help them get justice."

Ahmad stated that he and the foundation had no knowledge as to who had issued the video from the seminary but claimed it was probably the independent and exclusive action of the students of Jamia Hafsa.

Published in The Express Tribune, December 14th, 2014.
COMMENTS (26)
Comments are moderated and generally will be posted if they are on-topic and not abusive.
For more information, please see our Comments FAQ