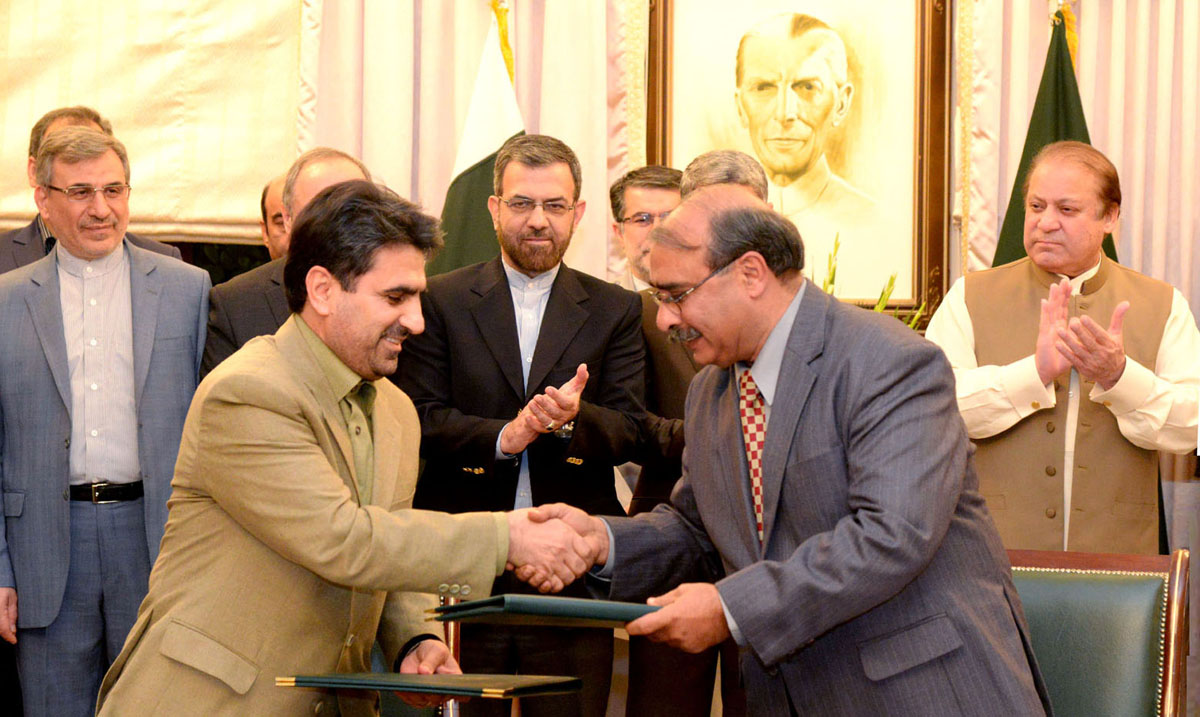 ---
ISLAMABAD: Pakistan and Iran on Tuesday signed five agreements with a view to enhance cooperation in diverse fields and improve trade ties between the two countries, Radio Pakistan reported.

The MoUs related to establishment of Joint Investment Committee, cooperation between SMEDA and Iran's Small Industries, and establishment of sister port relationship between the ports of Karachi and Chabahar in addition to cooperation in the field of investment, economic and technical assistance.

The agreements were signed during a ceremony in Islamabad attended by Prime Minister Nawaz Sharif. He later told the media that relations between Pakistan and Iran are improving, including bilateral cooperation in economy, culture, science and technology.

The premier identified that there are vast opportunities of increasing the volume of trade between the two neighbouring countries.

Earlier, Iran's Minister for Economic Affairs and Finance Dr Ali Tayyebnia called on the prime minster in Islamabad.

Iranian Minister is in Islamabad to attend the 19th session of the Pakistan-Iran Joint Economic Commission.

The premier expressed hope that the JEC session would open new areas of cooperation while fortifying the existing initiatives. During the meeting both sides agreed upon increasing mutual investment and bilateral trade between the two countries.

Pakistan for expanding Preferential Trade Agreement with Iran

Federal Minister for Commerce Khurram Dastgir told the Iranian finance minister that Pakistan wished to make the current Preferential Trade agreement with Iran effectively operational and expand it by including more items of trade in the reduced tariff list. This despite the fact that international sanctions have hampered trade ties with Iran.

Emphasising on engaging in a constructive dialogue to develop trade relations between the two countries on mutually beneficial terms, the Dastgir said that Pakistan wants to enhance the limited trade base between the two countries, which currently stands at $217 million.

Trade between Pakistan and Iran currently comprises mainly oil and gas from Iran and rice from Pakistan. Dastgir said Pakistan wants to enhance the trade base to include meat, fruits, textile, surgical items, sports goods, gems and jewelry in addition to rice as regular items of trade.

The minister was of the opinion that owing to sanctions, the two countries can initially use barter as preferential mode of trading until a suitable and recognised mechanism of payment is chalked out.

During the meeting, the Iranian side proposed the establishment of border markets to facilitate the trade among local communities residing in the border provinces of the two countries, adding that initially four such markets can be set up which may be increased depending upon their efficacy in the first phase.

Tayyebnia also proposed a plan to develop Joint Economic Zones which would have the necessary facilities to attract investment. Dastgir proposed a Gawadar-Chahbahar Joint Economic Zone which would have the potential to grow immensely.

Pakistan urged Iran to initiate dialogue among relevant authorities to develop mutually recognised standards and specifications which would be accepted across the two countries.

Both sides agreed to develop better data exchange systems between them to improve coordination between the two sides.

They also agreed to develop additional border posts to facilitate trade and movement of visitors across the border. Currently, there is only one crossing point at Taftan.
COMMENTS (4)
Comments are moderated and generally will be posted if they are on-topic and not abusive.
For more information, please see our Comments FAQ