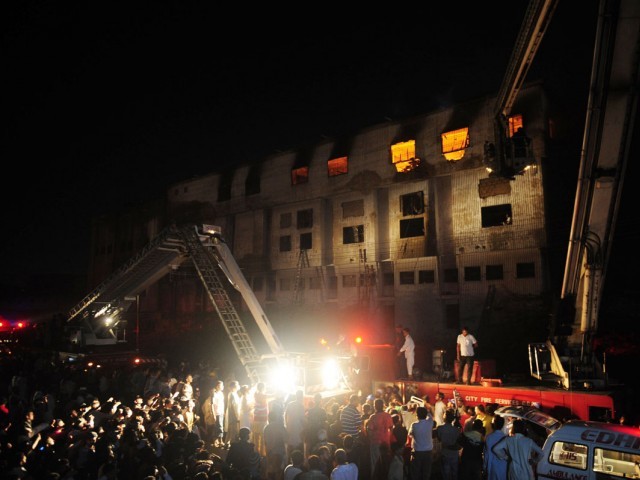 ---
KARACHI: Families of the victims of Baldia factory fire have warned that they will take to the streets, if they are not provided with their due compensation.

A rally will be carried out at Regal Chowk on December 14 against the unfulfilled promises made by Prime Minister Nawaz Sharif and a real estate tycoon, said Nasir Mansoor, the deputy general secretary of National Trade Union Federation (NTUF).

"Nawaz Sharif, when he was in the opposition, had announced Rs0.3million as financial aid to those affected by the tragic fire on behalf of the Punjab government," he said, while speaking at a meeting of NTUF and Association of Affectees of Baldia Tragedy on Thursday at Pakistan Medical Association House. "So far, we have received nothing."




He added that 110 families were still waiting for compensation as promised by a real estate tycoon and letters were written to him repeatedly but all in vain.

While talking about the working conditions of labourers, he said that nothing had improved despite people having witnessed one of the deadliest industrial disasters in the country.

"Pakistan was granted a GSP plus status by the European Union in January this year," he said. "With this agreement, the Pakistani government and industrialists have agreed upon ensuring working conditions as set by the International Labour Organisation."

He added that nothing could be improved as the authorities, employers and buyers were not bothered about labourers.

He claimed that they were preparing to go to a foreign court against the Italian company, RINA Group, provided the social audit certificate to Ali Enterprises - the factory where the incident took place on September 11, 2012.

The lawyer representing the victims and their families, Faisal Siddiqi, said that a compensation of Rs125million was deposited with the Nazir of the Sindh High Court and Rs0.5million per affected family would be paid out within the next two weeks. He added that negotiations with the German company, KIK, the factory's main customer, had also been successful and a compensation of additional 0.5million per family was expected by the end of next year.

Published in The Express Tribune, December 5th, 2014.