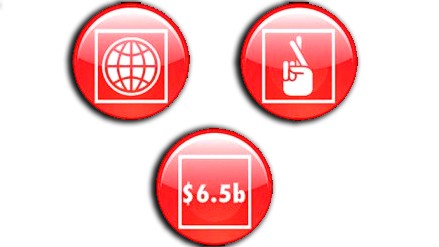 ---
ISLAMABAD: The World Bank may approve the lending of $6.5 billion on May 11 under the new Country Partnership Strategy for Pakistan, according to officials in the Economic Affairs Division. The lending would be spaced out over four years. They added that it may also restore budgetary support assistance to Pakistan if the new Country Partnership Strategy (CPS) is approved.

The World Bank (WB) suspended budgetary support assistance to Pakistan in 2008 when the economy was coping with current account and budget deficits while external inflows were nonexistent. The CPS is scheduled to go to the Executive Board next month, confirmed the WB spokesperson. The WB had promised to extend $1 billion per annum as project loans apart from the proposed $6.5 billion. Pakistan will receive $4 billion in four years. The remaining $2.5 billion of the $6.5 billion promised would be given in the form of budgetary support, which had remained suspended during the last few years. Under the proposed strategy, $200 million dollar would be provided for the Gas Efficiency and Production Enhancement Project, said the WB official. He added that the bank is expected to extend $300 million for the fourth Tarbela Extension Program in 2011.

The Bank has also indicated it will provide a loan for the Dasu hydropower project, but details of its financing have not been finalized yet, added the official. The restored budgetary support facility would also pave the way for approval of the National Express Way Programme worth $634.5 million which had been delayed for more than two years, said the Economic Affairs Division officials. The new strategy also promised an amount of $200 million for the National Trade Corridor Improvement Programme. Pakistan has borrowed $17.3 billion so far, according to WB statistics. Out of this $6.4 billion has been paid back. During the last four years, the WB lent $4.6 billion to Pakistan, less than the amount targeted due to the budgetary support facility being suspended.

A signification chunk of this amount came in 2009. The WB has spotted four projects, which were initiated or given financing during last four years, but are facing major problems. The WB is concerned about the procurement process in the Electricity Distribution and Transmission Project. This project was started in 2008 with a cost of more than $200 million. The WB's "Status of Projects in Execution Report" reveals that the implementation process was slow up till August, 2009 and that there were delays in taking policy decisions.
COMMENTS (1)
Comments are moderated and generally will be posted if they are on-topic and not abusive.
For more information, please see our Comments FAQ