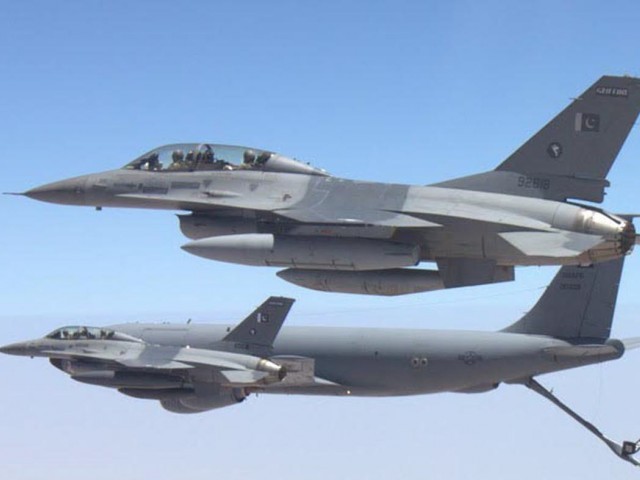 ---
PESHAWAR: At least 24 militants were killed on Tuesday in air strikes and ground fighting in tribal areas, as part of ongoing offensives in the region, according to ISPR.

Air strikes took place in North Waziristan, where the army launched a major operation in June targeting Taliban and Haqqani network militants.

The strikes came as ground troops traded fire with militants in Khyber agency, where Taliban and Lashkar-e-Islam fighters are based.

"In early morning precise aerial strikes in North Waziristan Agency today 17 terrorists were killed including some foreigners," a senior security official said.

Local intelligence officials confirmed the air strikes and said they took place near Miramshah, the main town of North Waziristan.

"There are five Uzbek and two Haqqani network militants among those who have been killed in the air strikes," an intelligence official told AFP.

Separately in Khyber's Tirah valley, a stronghold of Taliban militants, seven militants were killed during a gunfight that erupted after up to 60 militants stormed a security check point.

"Seven terrorists were killed in an exchange of fire with security forces in Tirah in Khyber Agency. Reportedly about 50-60 terrorists raided a check post in Tirah," a second security official told AFP.

It was not possible to verify the number of casualties or their identity as the media are banned from visiting the area.

The North Waziristan operation began in mid-June, when jets and artillery began targeting rebel strongholds before ground forces moved in.

The army says it has killed more than 1,100 militants and lost more than 100 soldiers since the start of the operation.

An AFP tally based on regular updates from the military puts the militant death toll at more than 1,500, with 125 soldiers killed.
COMMENTS (3)
Comments are moderated and generally will be posted if they are on-topic and not abusive.
For more information, please see our Comments FAQ