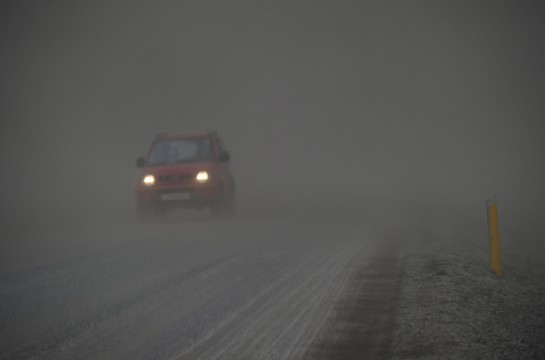 ---
GENEVA: The volcanic ash cloud from Iceland is expected to change directions and head towards the Arctic when the weather changes later in the week, the World Meteorological Organisation (WMO) said on Tuesday.

"The current high pressure system with weak winds and slowly descending air in the centre of the high does not help very much to disperse the ash cloud," the UN weather agency said in a factsheet.

"This situation is expected to change towards the end of the week, when a stronger low pressure system over Iceland is predicted to develop.

"Not only will such a low change the winds and push the ash towards the Arctic, but the rains associated with this low pressure system will result in a degree of 'wash out' of ash at lower levels," it added.

Herbert Puempel, who heads the WMO's aeronautical meterology division, told reporters that "the second part of the week towards the weekend, all indicators are very, very positive."

"There is at the moment nothing on the charts that would make us very nervous about the coming weekend ... unless something catastrophic happens in Iceland," he said.

He also dismissed fears that the ash cloud may move further west to disrupt air traffic on the east coast of the United States, saying that "it is raining there anyway."

For the moment, the cloud of very fine ash over Europe is expected to remain "for quite some time" in the atmosphere while they await thunderstorms to wash them away, explained the WMO.

But some of the ash is descending, said the WMO, pointing to measurements which indicate that ash particles are now between ground level and 3,000 metres (9,800 feet).

There is still evidence however that the cloud remains at higher levels. The WMO also said that it was informed on Tuesday that the Eyjafjoell volcano in southern Iceland is now spewing less ash, with the plume reaching "less than 3,000 metres."

"The whiteness of the plume furthermore suggested that it contains mainly steam and little ash," it added. Initially, the volcano was spewing ash at heights of 9,000 metres.

The spread of the ash cloud east- and south-wards brought about air travel chaos in Europe as authorities shut down their airspace over fears that commercial aircraft could be damaged by the fine ash particles.
COMMENTS
Comments are moderated and generally will be posted if they are on-topic and not abusive.
For more information, please see our Comments FAQ