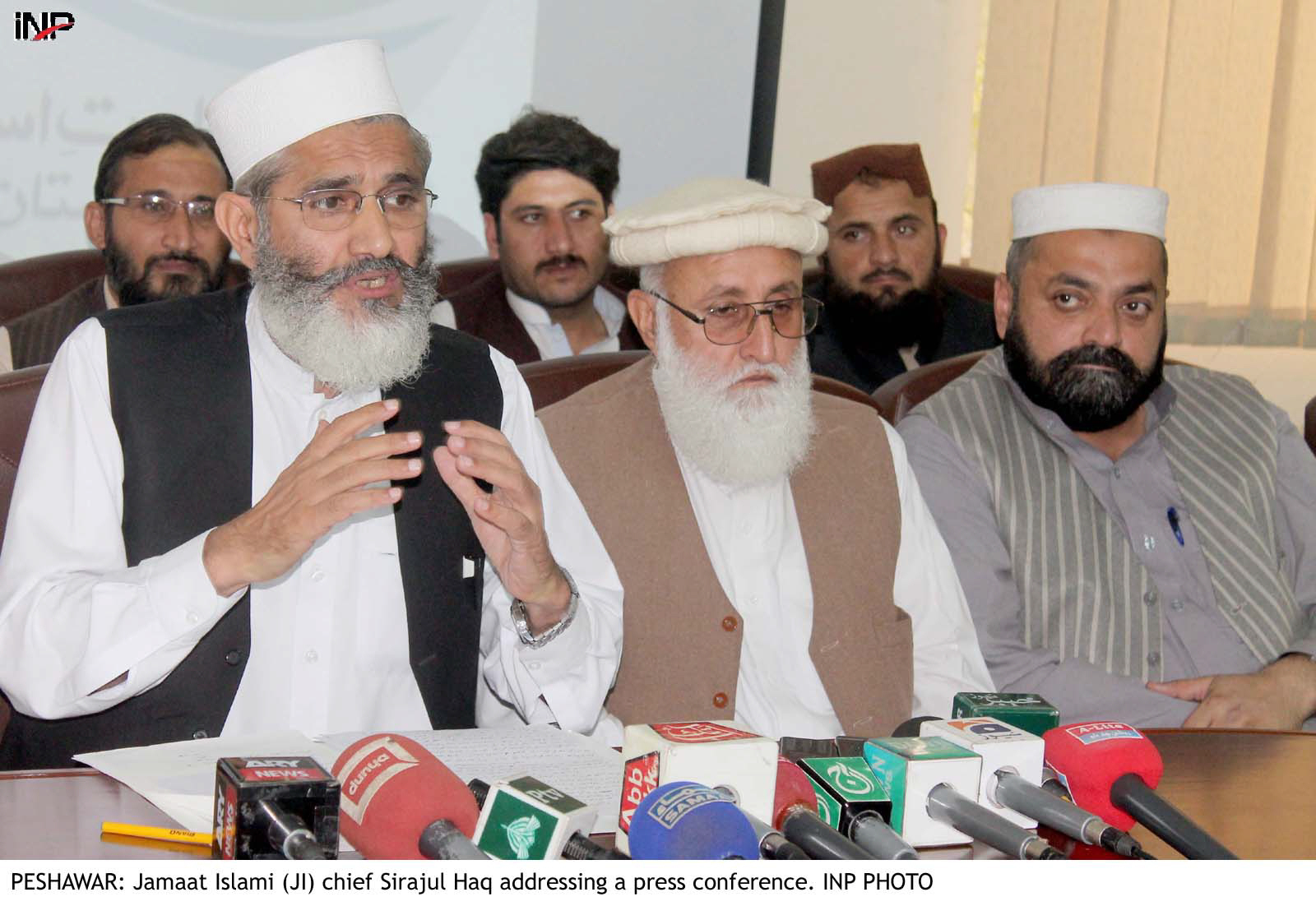 ---
PESHAWAR:



Even as Federal Minister for Information Pervaiz Rasheed spoke of negotiating with Pakistan Tehreek-e-Insaf (PTI) on Saturday, Jamaat-e-Islami (JI) Ameer Sirajul Haq has urged the government to return to the negotiating table to end the deadlock.




Addressing a news conference on Sunday at the party's provincial headquarters in the city, Sirajul Haq said PTI was ready for talks. He urged the government to deliver on the promises of reforms it made to a political jirga.




Haq asked the government to start working on electoral reforms, restructuring the Election Commission of Pakistan (ECP) and forming a judicial commission as announced by Prime Minister Nawaz Sharif.

Haq said an opposition member would be an ideal candidate to head the parliamentary committee for electoral reforms. The JI chief added elections should be held on the basis of fair representation so the masses can be liberated from the clutches of the elite. Haq asserted little progress had been made with regards to the judicial commission.

From cricket to footie

When asked about PTI Chairperson Imran Khan's observation that JI was playing on "both sides of the wicket", Haq avoided the question. He said both parties were part of the coalition government in K-P; however, they were free to pursue their own policies in other matters.

"I am a footballer and do not play cricket," Haq quipped when pressed further for a response to the PTI chief's comments.

While addressing the demonstrators at the sit-in at D-Chowk in Islamabad on Thursday, Imran Khan had said "you [Haq] have termed both the PTI and PML-N as two sides of the same coin. I want to ask you if you will stand with the truth as PTI wants to see Pakistan become an Islamic welfare state."

Bangladesh verdict

Haq also lashed out at the Bangladesh government for sentencing JI leaders for mass killings during the nation's war with Pakistan in 1971. He likened Bangladeshi premier Sheikh Hasina's actions to "political terrorism".

The Bangladesh government was convicting JI workers to please the Indian lobby, Haq claimed. He also criticised the Pakistani government for remaining silent over the issue and asked it to take up the matter with Hasina.

Haq urged human rights organisations to take note of the plight of JI workers in Bangladesh.

The JI chief said his party has decided to launch a movement to break the political status quo of the past 65 years. He claimed it would be the biggest political movement in Pakistan's history and delegations from 24 countries would participate.

Haq invited socialist organisations and non-Muslims to be part of the event. He said the K-P chapter of his party was aiming to bring 110,000 people to the movement.

Siraj also called for maintaining peace during Muharram.

Published in The Express Tribune, November 3rd, 2014.
COMMENTS (5)
Comments are moderated and generally will be posted if they are on-topic and not abusive.
For more information, please see our Comments FAQ