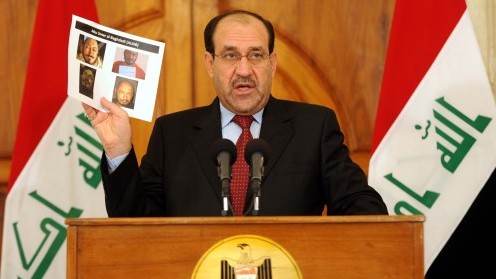 ---
BAGHDAD: Al Qaeda's top two leaders in Iraq have been killed, officials said on Monday, in a strike the US military predicted would deal militants a "potentially devastating blow" but whose impact analysts said may be limited.

Prime Minister Nuri al-Maliki said al Qaeda's Iraq leader, Abu Ayyub al-Masri, and Abu Omar al-Baghdadi, the purported head of its local affiliate, the Islamic State of Iraq, were found dead in a hole in the ground inside a house after it was surrounded and stormed by troops.

The deaths could be a major setback to the stubborn insurgency at a time when Iraq is emerging from the sectarian slaughter unleashed after the 2003 US-led invasion but still struggling to end suicide bombings and other attacks.

"The death of these terrorists is potentially the most significant blow to al Qaeda in Iraq since the beginning of the insurgency," said the US commander in Iraq, Gen. Ray Odierno. The military described it as "a potentially devastating blow."

The killings may boost Maliki's stature as he tries to ensure his reappointment as prime minister following a March 7 general election that produced no outright winner.

Maliki's ambitions for a second term are proving to be a stumbling block to the formation of an alliance between Iraq's two main Shi'ite Muslim political groups that would give them the clout to form a government.

Maliki said Masri, also known as Abu Hamza al-Muhajir and thought to be an Egyptian, and Baghdadi were killed in Thar-Thar, a rural area 80 km (50 miles) northwest of Baghdad that is regarded as a hotbed of al Qaeda activity.

"This operation is a fatal blow to al Qaeda groups and promotes Iraqi efforts for rebuilding and reconstruction," Maliki said at a news conference. The US military said the operation took place on Sunday 10 km (six miles) southwest of Tikrit, Saddam Hussein's home town.

A US soldier died in a helicopter crash during the assault, the US military said. It had previously said the crash was an accident and not due to hostile fire.

An assistant of Masri's and a son of Baghdadi's were also killed in the fighting and at least 16 people were arrested.

Maliki said the house was destroyed and the bodies of Masri and Baghdadi were found in a hole in the ground in which they had been hiding.

The Iraqi government has frequently claimed it has arrested major al Qaeda leaders only to be proved wrong, and the reaction of Iraqis was mixed.

"Abu Ayyub passes away and another Abu Ayyub pops up," said Baghdad resident Hussein Taher.

'ELIMINATING TERRORISM IS GREAT'

Another Baghdad resident, Abu Nabiel al-Humairi, said "eliminating terrorism is great."

"We want to walk freely in our country and live safely," Humairi told Reuters Television.

Pentagon spokesman Bryan Whitman said in Washington that the operation was Iraqi-led.

"These are two significant individuals. And it demonstrates again a capability, a growing capability of the Iraqi security forces to go after these threats in their country. And it's very positive that neither of those individuals will be operating in Iraq anymore," he said.

Analysts said Masri and Baghdadi were the highest-ranking al Qaeda figures to be targeted in Iraq since the organization's former Iraq chief, Abu Musab al-Zarqawi, was killed by US aircraft in June 2006.

But they also cautioned against reading too much into the strike against a network that did not appear to have much hierarchy but operates mainly through independent cells.

The outcome of negotiations to form the next government was far more relevant to Iraq's future and stability, they said.

"This political situation in Iraq is very volatile at the moment, so while this will be good for Maliki and make headlines for 48 hours it will be forgotten amid the ongoing post-election story," said Peter Harling, an analyst at the International Crisis Group.

"From what we've seen in the past killing leaders like this has never made that much of a difference."
COMMENTS
Comments are moderated and generally will be posted if they are on-topic and not abusive.
For more information, please see our Comments FAQ