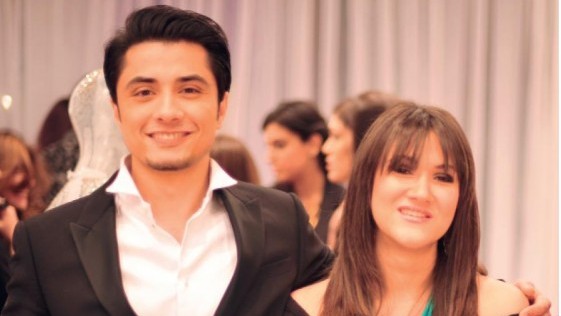 ---
KARACHI: "Wasim bhai, aap thaktay nahi hain?" This phrase from an advertisement in the 1990s has become part of Pakistan's lexicon. It has inspired countless jokes, especially every time Pakistan's cricket team is playing a major tournament.

What made this simple public service message a huge deal was Wasim Akram's endorsement for a campaign against smoking. While some brands introduce fresh faces in their marketing campaigns, many companies have capitalized on the fan following of celebrities over the years. We take a look at the best celebrity campaigns over the year.

Kareena Kapoor

People staring up at billboards didn't believe it was Kareena Kapoor and thought it was a great Photoshop job until Firdous Cloth Mills and Kapoor announced that they had worked on a campaign together. Firdous' summer 2010 lawn campaign featured the hit actor, marking the first time that one of Bollywood's highest paid actors modelled for a Pakistani brand. The billboards bearing her image were plastered through the country and led to instant brand recognition for Firdous.

Ali Zafar

For years Ali Zafar kept singing Telenor Talkshawk's jingles. Zafar appeared in the campaign with Sonya Jehan, dancing through seaports and railway stations, and like his several hits, fans knew the ad jingles word for word. However the glitzy campaign came to an end when Zafar switched brands to start endorsing Telenor's competitor, Mobilink.

Faisal Qureshi

Faisal Qureshi, Mehreen Raheel, Adeel Hashmi and Javed Bashir have become an iconic quartet through their Ufone television commercials.

Shaan

Shaan reinvented his entire career with his campaign for Mobilink Indigo. With a series of ads themed around friends and family, it helped that Shaan also had the help of Vaneeza Ahmed and Zainab 'ZQ' Qayyum.

Annie

After Ali Zafar, the latest teen sensation Annie endorsed Telenor. Annie is now a part of stars for the Telenor Talkshawk team of brand ambassadors.

Junaid Jamshed

Long after Jamshed eschewed music, he made a comeback to endorse the chips brand Lay's, after rumours spread that the brand allegedly had banned ingredients. Junaid Jamshed declared the product to be halal; but even that move invited criticism from certain groups that accused him of passing a fatwa.

Atif Aslam

Atif Aslam featured in a campaign for Clear Shampoo.

Cricket celebrities

For over a decade, Pepsi has used cricketers to endorse its brand in India and Pakistan. From Shahid Afridi to Wasim Akram, almost every major cricketer has hawked the soft drink. Pepsi advertisements now feature bowler Mohammad Sami.

Lollywood celebrities

The tea brand Tarang launched with an incredibly addictive jingle and ads featuring Moammar Rana, Saima and Sana. Warid chose to play up Lollywood's closeness with an advertisement featuring Reema, Syed Noor and Saima.

Musicians

Walls' Cornetto campaign has consistently featured bands popular with a younger audience, such as Jal and Noori.