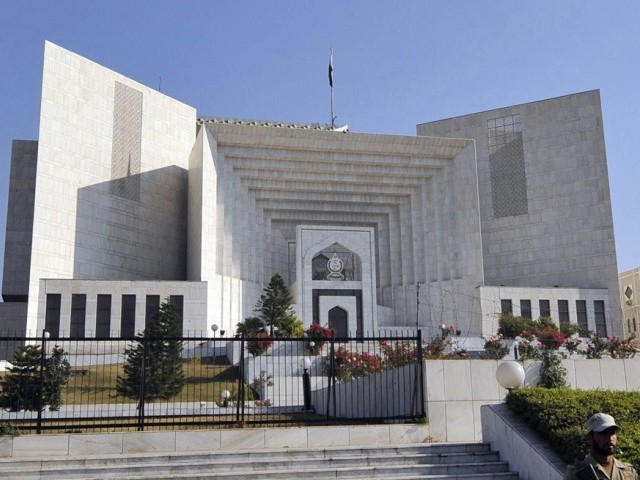 ---
ISLAMABAD: The Supreme Court on Wednesday decided to constitute a larger bench to hear cases related to death row inmates across the country.

The decision came in reply to an appeal filed by a representative of the Watan Party, Barrister Zafarullah, seeking explanations from the government over the inordinate and inexplicable delays in the execution of prisoners on death row.

During the hearing, the three-judge bench headed by Chief Justice Nasirul Mulk decided that the matter should be referred to a larger bench considering the number of cases pending in this matter.

The petition stated that besides murder, 27 offences are legally punishable by death in Pakistan and asked for the release of death row prisoners if the government does not want to proceed with execution. To this, the chief justice questioned under which law the inmates should be released.

The hearing of the case has been adjourned for an indefinite period of time.

According to a Human Rights Commission of Pakistan (HRCP) report published in 2013, authorities have executed only one death row prisoner since 2009, while 8,526 inmates on death row await their fate in prisons across the country.

The report further stated that courts continue to award capital punishment as 227 people, including three women and three Christians, were sentenced to death in 2013.

On December 5, 2013, the law ministry informed the HRCP that the government is maintaining a moratorium on the death penalty. However, the ministry added that it is not in favour of complete abolition of the death penalty in view of the prevalent law and order situation, particularly with reference to acts of terrorism.

The ministry added that the death sentence under Hudood Laws also could not be abolished in view of Article 2-A and Article 227 of the Constitution.

"The issue of death penalty is related to the Ministry of Interior and Narcotics Control and provincial governments. This ministry is obtaining their comments and a final response shall be given after receipt of comments from all stakeholders," the law ministry further said.

The HRCP has also urged the government to take concrete steps towards ending the death penalty.
COMMENTS
Comments are moderated and generally will be posted if they are on-topic and not abusive.
For more information, please see our Comments FAQ