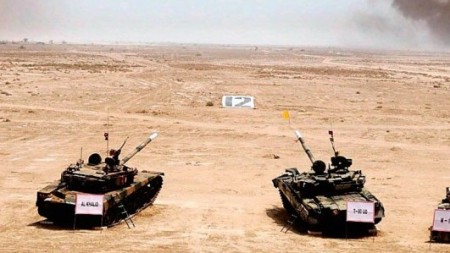 ---
BAHAWALPUR: The first phase of military wargames, codenamed Azme- Nau – III, concluded in Khairpur Tamewali firing range here on Sunday.

During the function, the army presented counter strategies to India's military theory of "Cold Start Doctrine" which involves joint operations between India's three services. Intercepting a drone with anti-aircraft guns was also demonstrated.

Speaking at the event, Prime Minister Yousaf Raza Gilani said that the armed forces were fighting Taliban insurgents on the country's western borders.

"Pakistan is situated in a region of conflicting interests and it wants lasting peace and security in the region," he added. The premier said he appreciated the achievements of the army in the tribal areas and Swat. He added that the armed forces, law-enforcement agencies and, above all, the people played a role during these operations.

Gilani said he had tried to convince world leaders to extend their full cooperation in the war against terrorism. He added that foreign leaders have assured complete cooperation to Pakistan, including military assistance.

Speaking on the occasion, Chief of the Army Staff General Ashfaq Pervez Kiyani said the role of the army was to defend the country from internal and external enemies. He said Pakistan would continue playing its "positive role" in strategic stability. While explaining the concept of the exercise, General Kayani said that Azm-e-Nau-III was conceived and executed as a concept validation exercise – a part of the "eternal preparedness" philosophy of the army.
COMMENTS (1)
Comments are moderated and generally will be posted if they are on-topic and not abusive.
For more information, please see our Comments FAQ