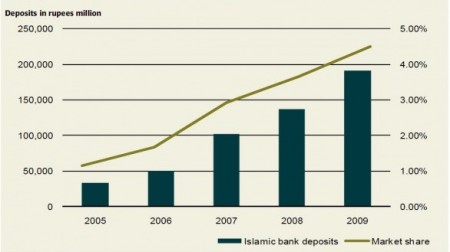 ---
LAHORE: After the success of Islamic banking in Pakistan, local banks want to steer towards Afghanistan which is a rapidly emerging market for the financial industry.

Experts related to the industry informed The Express Tribune that several local banks are eyeing Afghanistan to expand themselves. They said Islamic banking and insurance have shown significant progress in recent years in Pakistan, compared to conventional banks. In 2008, as many as 217 new branches of Islamic banks were established taking the tally to 506 from 289.

Now, it is time for Pakistan's banks to enter the fast emerging market of Afghanistan and lead the banking sector in Islamic banking, they added.

Pakistan and Islamic banking

The global financial crisis was a major reason for the bankruptcy of various banks and financial institution both in Pakistan and around the world.

But despite that, the Islamic banking system is gaining momentum in Pakistan which is evident if one looks at the available facts and figures.

The recently published report by the State Bank of Pakistan (SBP) said that the growth of the Islamic banking sector was more than that of conventional banking and there is still a lot of potential.

At the end of December 2007, Islamic banking deposits were Rs 147b and assets were estimated at Rs 206b. There was also a comprehensive increase of more than 30 per cent in its reserves.

Growth continued in 2009 and according to the SBP, the sector grew 12.4 per cent by July- September 2009. The total assets of Islamic banking in the country reached Rs 325b in September 2009 compared with Rs 313b in June 2009.

The Islamic Banking industry envisions achieving a share of 12 per cent by 2012 according to the SBP. Country Head of Albaraka Bank, Shafqaat Ahmad said that Islamic banking provides a solution to all economic crises being faced by the world.

He said that in South Asia, where more than 200 million people are Muslims, Islamic banking will play an important role.

"Afghanistan and Pakistan have a strong potential for Islamic banking," he said. Prospects in Afghanistan The Chief Executive Officer of Al Huda Centre of Islamic Banking and Economics, Zubair Mughal said that the central bank of Afghanistan is keen to promote Islamic banking. While quoting from a meeting with Abdual Qadir Fitrat, Governor of Da Afghan Bank (Central Bank of Afghanistan), he said a separate Islamic banking division has started working in the country.

The Head of Product Development and Research at the First Dawood Islamic Bank, Mujeeb Baig said that Afghanistan is interested in Islamic banking but it lacks human resources and technical expertise.

"We can utilize our potential in Afghanistan," Baig added, by releasing international Sukuk bonds Afghanistan is planning to accomplish various government and private projects including infrastructural development, road development and energy development. As many as 18 banks are working in Afghanistan right now. Out of these, Kabul Bank, Ghazanfer Bank, Alfalah Bank, Azizi bank and Bank-e-Milli Afghan are providing Islamic banking in the country.