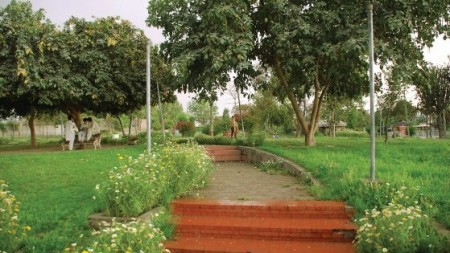 ---
PESHAWAR: A group of guards and gardeners try to fix an outdated lawn mower, one of the two mowers they have for maintaining a park spread over nine acres of land.

Peshawar's Khushal Bagh, built over the historic waterspring of Gorak Nath, lies in shambles due to negligence and apathy of authorities responsible for its upkeep.

Situated at Warsak Road on the banks of old River Budni, the park presents a dismal sight. There are no boundary walls and the 110 lights of the park do not work anymore and come night, the park becomes pitch black. No park officials were present to comment. "We are struggling to maintain this park," a gardener told The Express Tribune.

"The park, once green, is now bald in patches. We have just two spades and a pushcart." Gardeners said that apart from proper equipment, they need pesticides, fertilisers, seeds and a proper boundary wall to maintain the park.

Though in poor condition today, the park has a rich history attached to it. Imran Rashid Imran, in his book History of Peshawar's Gardens, writes that hundreds of years ago, Hindu ascetic Gorak Nath made a water pool out of a local natural spring. Hindus living in the city considered it holy and used it for bathing.

The pool was later partitioned into two for men and women. It subsequently became a public swimming pool and later in 1993, the PDA developed it into a modern swimming pool.

They also developed the park along with it and named it after Khushal Khan Khattak, the Pakhtun warrior poet who fought against the Mughal Emperor Aurangzeb Alamgir. The park also has Peshawar's only public swimming pool, which is also in ruins. Tiles covering the pool's walls are broken. Sharp edges protruding from them regularly injure many of the dozens of swimmers who visit the pool every day.

Though, park employees have tried patching the floor with plaster, they say it needs to be completely re-tiled. Khushal Bagh's miseries do not end here. Another portion of this park, lying across a drain, has been turned into a garbage dump.

The protective fence has been breeched in several places and local neighborhood boys use it as their cricket ground. Park employees, on condition of anonymity, said the park's condition has greatly deteriorated since it was taken over by town-II authorities in 2001 after the introduction of a new local government system. They believe it would be better to give the park back to the Peshawar Development Authority (PDA) which used to take care of it before.
COMMENTS
Comments are moderated and generally will be posted if they are on-topic and not abusive.
For more information, please see our Comments FAQ