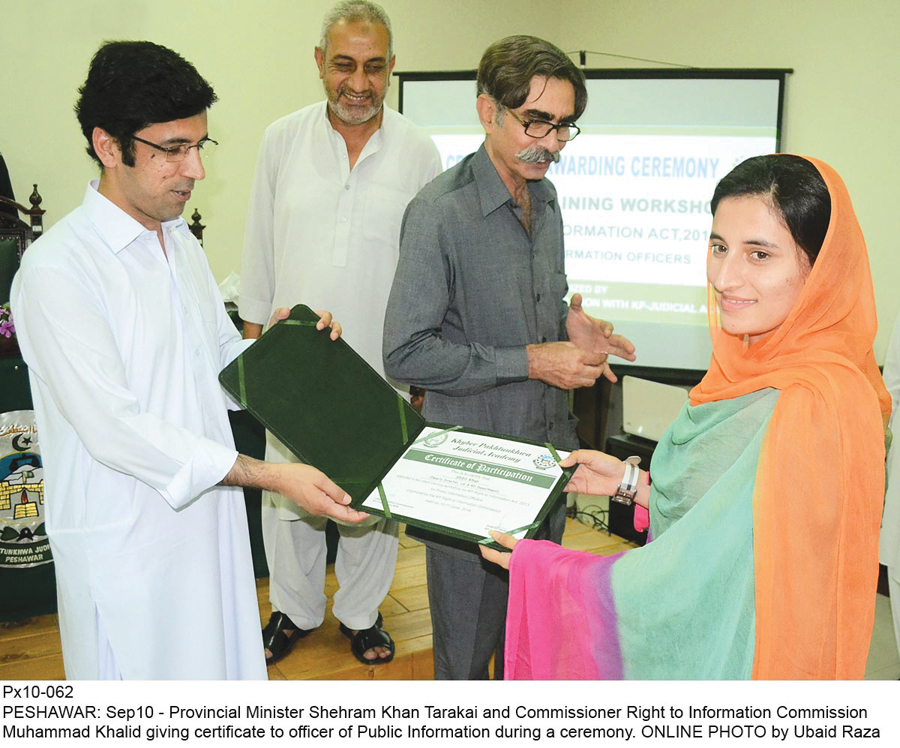 ---
PESHAWAR:



Senior minister Shahram Khan Tarakai said the PTI-led government was ushering in an era of transparency by introducing revolutionary laws such as the Right to Information.




"An era of transparency is upon us and will end the trend of secrecy in government departments," he said on Wednesday.

The Awami Jamhoori Ittehad Pakistan leader was the chief guest at the closing ceremony of a series of workshops held to train public information officers (PIO) to implement the RTI law. The event was held at the K-P Judicial Academy (KPJA).

Chief Information Commissioner of the RTI Commission, Major (retd) Sahibzada Muhammad Khalid, was also present among other senior officials.

"The nation is not going to forgive officers if they fail to deliver justice to citizens empowered through the RTI law," Tarakai told PIOs. He added a system of reward and punishment will be introduced for officers in various government departments.

A total of eight batches, each comprising 30 PIOs from various departments, were trained by KPJA. The workshops were held in collaboration with K-P Post Crisis Needs Assistance. The officers were trained on how to legally and effectively deliver the system.

In his speech, the chief information commissioner reminded PIOs they were public servants and should never create hurdles for the masses. He added timeframes fixed under the RTI law would be strictly followed and warned delays would not be tolerated.

Khalid said government officials were not answerable to the public in the past, but now citizens have access to official records and PIOs will have to operate accordingly. He said financial incentives should be offered for those PIOs performing duties under the RTI law besides their own responsibilities in government departments.

Atif Yousafzai, a PCNA communication specialist, said under the Governance Support Project (GSP), funded by World Bank, the training given to PIOs would introduce an era of good governance. "After getting proper training at the judicial academy, the officers should fulfill their responsibilities and facilitate people seeking information under the RTI law."

Published in The Express Tribune, September 11th, 2014.