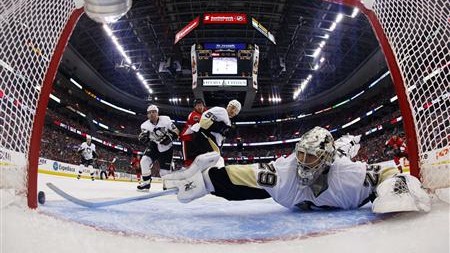 ---
OTTAWA: Daniel Carcillo scored early in the overtime period to lift the Philadelphia Flyers to a 3-2 sudden death win over the New Jersey Devils in game three of their Eastern Conference quarter-final series Sunday night.

Philadelphia took advantage of a rare penalty in NHL overtime playoff hockey and went to full attack, crashing the Devils net throughout the power play.

Mike Richards unsuccessfully tried to stuff the puck past goalie Martin Brodeur but his second attempt slid through the crease to a wide open Carcillo who easily knocked it home just five seconds after the penalty had expired for the game winner.

The Flyers took nine penalties in regulation and New Jersey made them pay with Brian Rolston twice scoring on the power play, both times assisted by late season addition Ilya Kovalchuk.

Brodeur single handedly kept the Devils in the game with several big third period stops but took the loss after making 31 saves on 34 Flyers shots.

Claude Giroux and Mike Richards tallied the first two goals for the Flyers and Brian Boucher was effective in net stopping 17 of the 19 shots he faced to get credit for the win.

The victory gives the seventh seeded Flyers a 2-1 advantage over the second seeded Devils in the best-of-seven series with game four scheduled for Tuesday night in Philadelphia.
COMMENTS
Comments are moderated and generally will be posted if they are on-topic and not abusive.
For more information, please see our Comments FAQ