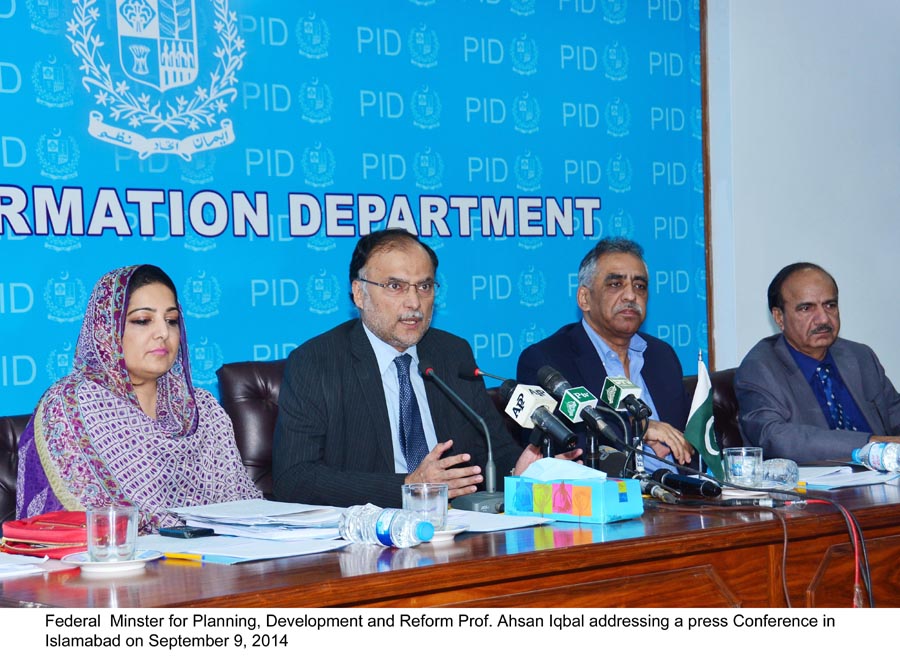 ---
ISLAMABAD: Federal Minister for Planning and Development Ahsan Iqbal on Tuesday claimed that the political instability caused by the nearly month long protests in Islamabad had cost the economy Rs1 trillion.

At a press conference, Iqbal said that illogical and baseless allegations are being leveled by PTI chief Imran Khan which is not only damaging his own credibility, but also creating doubt in the minds of masses as well.

Giving details, Iqbal said the devaluation of the rupee during this period from Rs98 to the dollar to Rs103 to the dollar would cost the economy Rs250 billion in the additional burden to foreign debts.

Further, the national economy suffered a loss of Rs100 billion due to increase in the petroleum prices owing to the devolution.

Iqbal added that the stock exchange had crashed from 29,000 points to 28,000, causing a loss of Rs350 billion to the economy. At the same time, the inflationary price of exports caused damage worth Rs225 billion during this period.

The minister said that the PTI chief was spreading misinformation about the growth of national economy, with claims that it was 3.1 per cent rather than 4.1 per cent as informed to IMF. He said that after Imran's allegation, the International Monitory Fund itself corrected it and endorsed actual figure of growth rate as 4.1 per cent, which Imran Khan has negated in his speeches.

The minister said that Imran was spreading misinformation about the visit of Chinese President by claiming the visit would have solmenised a loan deal at 60 per cent interest rate, which was baseless.

In fact, Iqbal claimed that the Chinese President was due to invest $34 billion mainly in the energy sector under the Power Purchase Agreement and its rate has not been finalised as yet.

"Due to the Chinese investment, 10, 400 mw electricity will be produced in Pakistan which will overcome the energy shortage in the country."

"Due to the political ego, Imran Khan is not only leveling baseless allegations against the rival politicians, but also opts to blame Pakistan's most sincere friend country, which has always helped Pakistan in testing times."

The planning minister claimed that Imran was making policy statements based on unconfirmed statements made on television.

He reiterated that the 2013 elections were declared fair and credible by the EU observers and stated that they were more credible than ever before.

He said that Imran Khan is in hurry to become a Prime Minister and he believes that if the ongoing power and development projects mature after five years then the 2018 elections will also be won by Nawaz Sharif.

Minister for Information Technology Anusha Rehman said that the narrative of 35 punctures as Imran Khan often mentions, is that these 35 constituencies are those where the number of rejected votes are more than the number of wining votes. She said that these constituencies not only in Punjab, but also in other parts of country and PML-N candidates succeeded only in 12 out of 35 such constituencies. "It proof that neither caretaker Chief Minister Punjab Najam Sethi was behind of any such conspiracy nor PML-N was the beneficiary of these all constituencies", she maintained.

Correction: An earlier version of this story incorrectly noted in its headline that a loss of $1 trillion had been caused instead of Rs1 trillion, as correctly noted in the story. The error is regretted.
COMMENTS (11)
Comments are moderated and generally will be posted if they are on-topic and not abusive.
For more information, please see our Comments FAQ