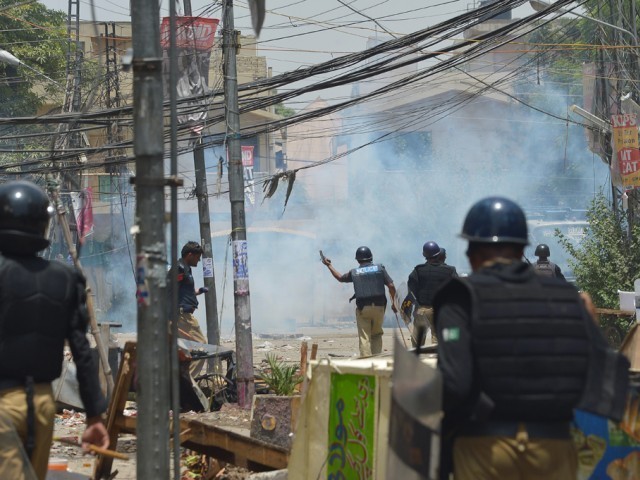 ---
LAHORE: Faisal Town police on Monday amended the FIR – registered against Prime Minister Nawaz Sharif and Punjab Chief Minister Shahbaz Sharif among 21 others allegedly involved in the June 17 Model Town incident – and added charges of terrorism in it.

According to a copy of the amended FIR available with The Express Tribune, the four new sections – added to the report through a supplementary statement – include Section 7 of the ATA, as demanded by the Pakistan Awami Tehreek (PAT). Other parts of the FIR, which the PAT had objected to, have also been crossed out.

In the supplementary statement, Inspector Ijaz Rasheed, who is in charge of the investigation at Faisal Town police station, explained that he visited Minhajul Quran Secretariat in Model Town, where the guard told him that the petitioner and other witnesses were in Islamabad.

"Upon reviewing the FIR, the legal opinion, which was unnecessary, was being removed and other sections, which were found to be necessary were being added to the FIR."

Interestingly, three other sections of the Pakistan Penal Code (PPC) have also been included. These include section 295-B for desecrating or damaging copy of the Holy Quran; section 365 for kidnapping or abducting with intent to confine a person; section 452 for trespassing on private property.

Police had last week registered the FIR of Model Town incident as per the demands of the PAT. However, it had attached with it the legal opinion it had sought and selected excerpts of the Lahore High Court order.

Fourteen PAT supporters were killed and scores of others were injured after a clash with Punjab police in Model Town, Lahore on June 17.

The first FIR of the incident was filed on June 19 but PAT had rejected it as the police had nominated the PAT chief Dr Tahirul Qadri's son Hussain Mohiuddin as the main accused.

Later under mounting pressure of the PAT, which is staging a sit-in in Islamabad for more than two weeks, the government registered another FIR on Thursday, which was again rejected by the PAT chief as it did not contain charges of terrorism.

Published in The Express Tribune, September 2nd, 2014.