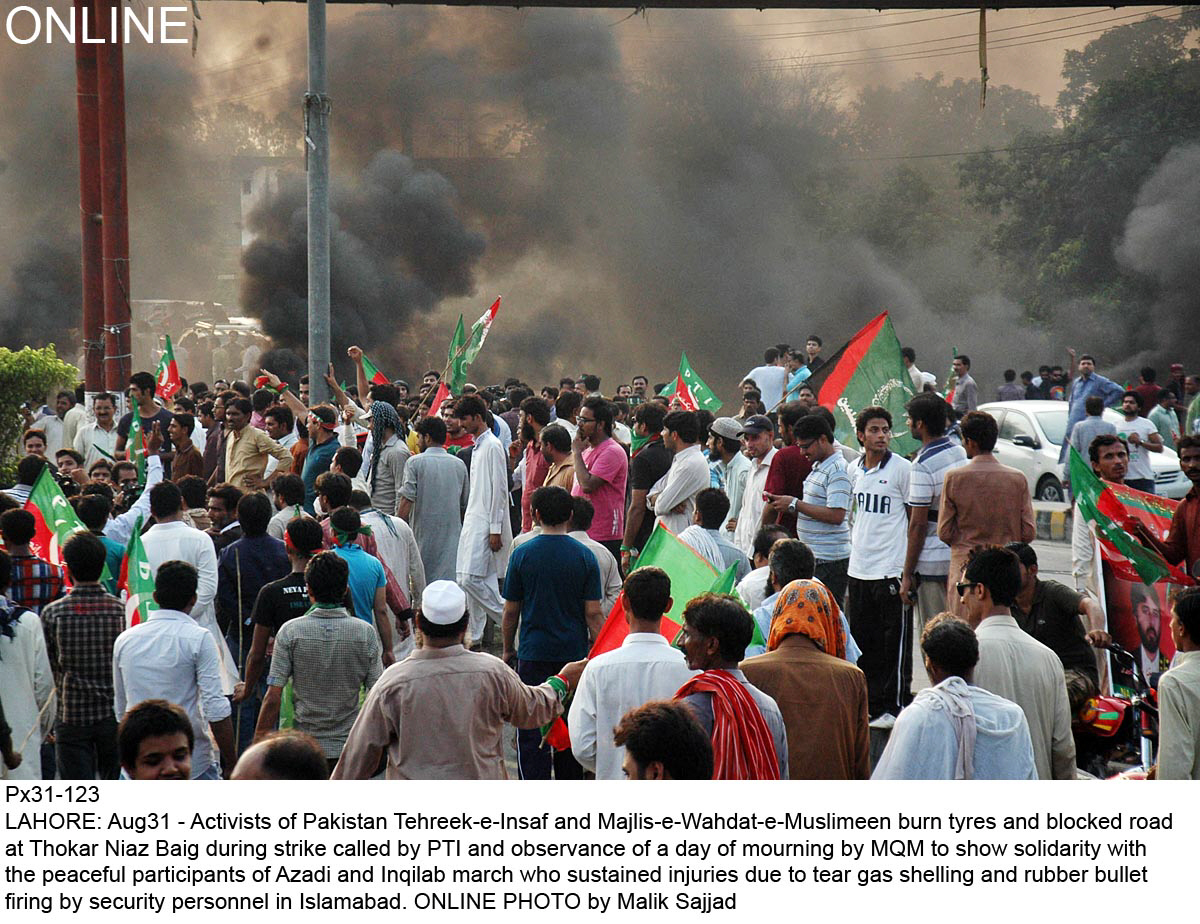 ---
ISLAMABAD: As clashes between protesters and police continued on the third consecutive day, police officials remained on the defensive overall with enraged protesters snatching kits from the police.

On Monday, protesters of Pakistan Awami Tehreek (PAT) and Pakistan Tehreek-e-Insaf (PTI) took advantage of the rain and a reported shift change of police and attacked the state-run television headquarters.

A high number of protesters on Monday were seen in a police kits, wearing official-issued helmets, shin guards, elbow protectors, which they snatched from the police. The protesters claimed that in the last two days, they have snatched over dozens of protective shields, shin guards and other items from the police.

They said they only brought masks and sticks to protect themselves but the snatched kits would be useful for them. A senior police official, requesting anonymity, said teargas is not useful during rain and protesters got the advantage and attacked the PTV building.

Hafaz Khan, 20, a resident of Nowshera, and a PTI worker, said "Luckily I caught a Punjab police officer today, thrashed him and snatched his helmet and protective shield," said Khan. He claimed that for two days police used tear gas and they even directly fired at protesters, therefore, he had no option but to protect himself. He said from day one he joined the protest and will remain there until his 'chief' succeeds.

Muhammad Ibrar, 19, a resident of Okara, a PAT protester, was standing outside the Secretariat building and claimed he remained peaceful but the police action forced him to become violent. Ibrar said the police kits were purchased through public tax money and thus the public has a right to use them.

When asked whether he will give the kits back to the police, he replied that is no question about it and everything will be returned after the completion of the protest.

A spokesperson of Islamabad Police said the authorities have yet to confirm the number of missing kits, however, he admitted that protesters have snatched kits from the police. He said policemen would be issued new kits till the completion of the protest.

Published in The Express Tribune, September 2nd, 2014.