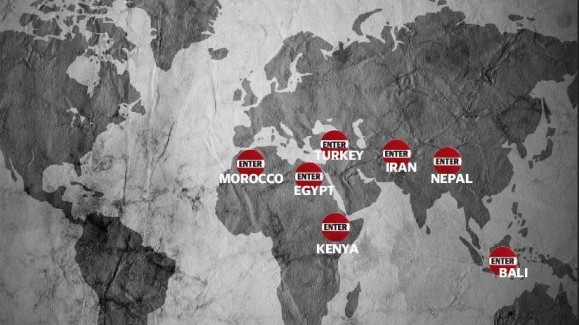 ---
Things To Do In Bali

Spend an entire day at Kuta Beach — the heart of Bali — surfing or taking in a spectacular sunset. Trek to the Kintamani Volcano on Mount Batur, which around 100 people climb every day. Shop for art and handicrafts in the region's chicest artists' colony in Ubud. Go scuba diving in Tulamben. Visit the legendary clubs at Seminyak.

Good For: A holiday on a budget, honeymooners wanting a luxurious experience at a resort.

Not Good For: The un-romantic.

Visa Process: Cost Rs 3,500, 5 days processing time.

Things To Do In Morocco

Trek on the High Atlas Mountains which are custom built for trekkers. For climbers, Jebel Toubkal is a popular peak. Cram in as much sightseeing as you can: the Bahia Palace, Saadian tombs and the historic mosques and palaces dotted through the region. Enjoy a hot-air balloon flight over the Moroccan desert. Take a steam bath or massage at a traditional hammam. Bargain leisurely for Moroccan handicrafts at the Souk of Fes.

Good For: A complete history, culture, art, tourism-friendly package.

Not Good For: Recreating Bogey's Casablanca.

Visa Process: Cost Rs 3,500 to 4,000, 14 days processing time.

Things To Do In Turkey

Head to the Nemrut Dagi National Park for an adventure. Shop at the Grand Bazaar, the world's largest covered market, in Istanbul. Taste the best of Ottoman cuisine. Relax in a Turkish bath - the Galatasaray Hammam and Cogaloglu Hammam are popular historic baths in Istanbul. See a performance of the whirling dervishes in Konya.

Good For: Feeling welcome as a Pakistani.

Not Good For: Going to prison. Think Midnight Express.

Visa Process: Cost Rs 5,000, 10 days processing time.

Things To Do In Nepal

Climb the lower slopes of the Everest or take a flight over the Annapurna range. Take advantage of some of the best trekking in the world in the Langtang Valley. Pay a visit to the Swayambhunath stupa for a striking view of the Kathmandu Valley, especially at night. Indulge in white water rafting in Himalayan rivers — one of the best ways to enjoy the beauty of Nepal. Go for a jungle safari in the Chitwan National Park.

Good for: Travellers on a shoe-string budget.

Not Good for: Sufferers of vertigo.

Visa Process: Cost Rs 1,500, 2 days processing time.

Things To Do In Egypt

Shop at Cairo's Khan el Khalili Bazaar. Take a cruise on the River Nile from Aswan to Luxor. See how the Bedouins live by embarking on an exploration of the Western Desert and White Desert. Indulge in as much sightseeing as you can: the pyramids of Giza and the Sphinx, the necropolis of Sakkara and the ancient capital of Memphis.

Good For: Getting tips on how to plan for your next life.

Not Good For: A change of scenery from Karachi, desert and dust inluded.

Visa Process: Cost Rs 3,500, 1 week to 10 days processing time.

Things To Do In Iran

Spend a day exploring the ruins of the ancient city of Persepolis, the heart of the Persian and Achaemenid empires. Visit the shrine of the eighth Imam in Mashhad. Stroll through the flea market in Tabriz or the bazaar in Tehran where you can haggle for carpets and spices. Take in the splendour of the architecture, Islamic art and gardens of Isfahan. Enjoy Jooja Kebab and Challo Kebab at roadside eateries anywhere, and make sure you drink a glass or two of Aab-e-taalibi, a refreshing mix of rose water, sugar and melon.

Good For: A cultural and spiritual journey, wearing all your scant French clothing underneath your burqa.

Not Good For: Young demonstrative couples. Make that demonstrations. Period.

Visa Process: Cost Rs 4,000, 4 to 5 days processing time.

Things To Do In Kenya

No Kenyan vacation is complete without a visit to the Nairobi National Park where you can get close to animals in the elephant orphanage. Visit the natural wonder that is the Masai Mara Game Reserve near the Tanzanian border. Enjoy the striking white beaches of Mombasa, Lamu and Malindi. Watch exotic birds in the Great Rift Valley city of Nakuru. Scuba dive and snorkel on Kenya's coral coast.

Good For: Families, especially children who will love the safaris.

Not Good For: Conspicuous consumption, the crime rate is high.

Visa Process: Thankfully, it's available on arrival.
COMMENTS
Comments are moderated and generally will be posted if they are on-topic and not abusive.
For more information, please see our Comments FAQ