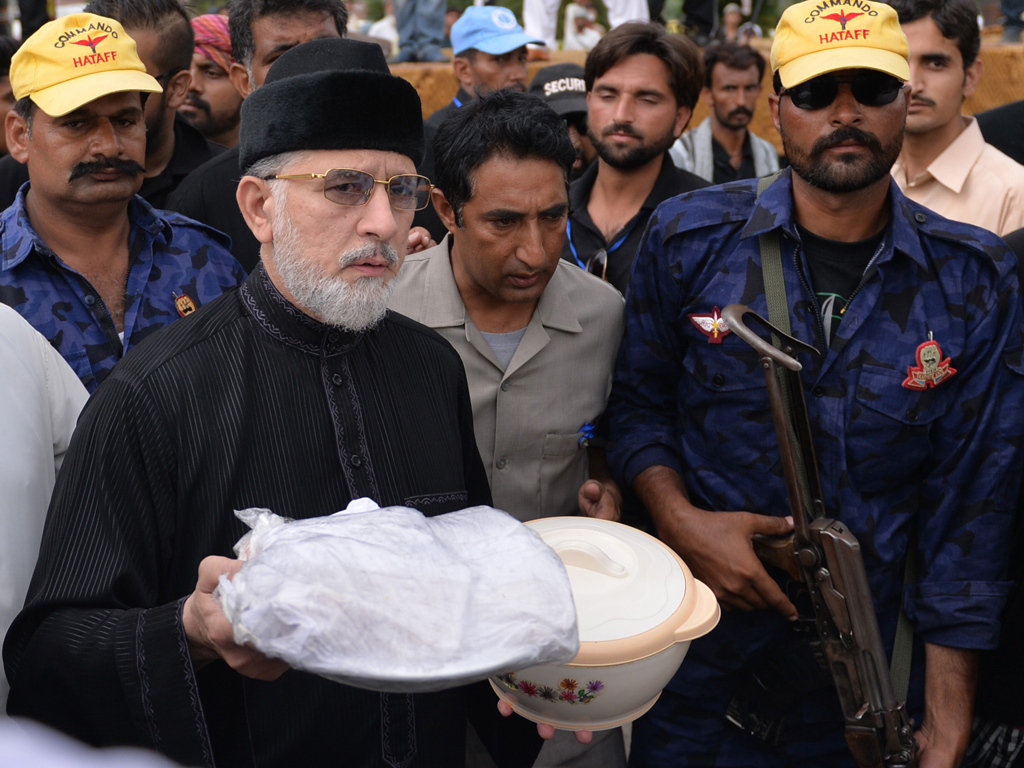 ---
ISLAMABAD:



The deadlock between the government and the Pakistan Awami Tehreek (PAT) continued on Thursday as Dr Tahirul Qadri did not allow his negotiators to meet the government committee due to a fresh blockade of roads leading to the sit-in venue.




Addressing his Inqilab rally, Qadri demanded the formation of a national government by dissolving all assemblies rather than resorting to individual resignations. "Individual resignations will not end this deadlock… there is a need to dissolve the assemblies and form a national government."

"The people of the Inqilab march want Quaid-e-Azam's Pakistan, which guarantees the fundamental rights of the people," he said. "People are waiting for the greater revolution. They want roti, kapra, makaan (food, clothing, shelter)… They want a peaceful Pakistan where the powerful cannot murder the weak."

"These people are here looking for a ray of hope for a progressive Pakistan, where they can feed their children with respect and dignity," he added.

Qadri accused authorities of blocking the supply of water and food for thousands of protesters camped on the Constitution Avenue, but said his supporters would not relent and give up their protest. "Our nerves are stronger than the nerves of Sharifs… we will continue this protest till it reaches its logical end."

Mentioning the harassment of his workers, he said that the house of PAT's vice president was attacked. "Democracy and human rights have been suspended in the country, and in such a situation there is no chance for the common man to get justice."

He claimed around 25,000 people have been arrested since August 10 and some of them have been killed by the police.

"We are here to plead for two separate cases. One is the murders of Model Town and the second is the socio-economic murder of millions of Pakistanis," he said. He asked why the democrats had ignored the massacre of Model Town, where 14 people were killed and 86 were injured in straight firing by Punjab police. "I asked Mehmood Khan Achakzai whether he would talk about democracy if his son or daughter was supposedly killed in Model Town?"

Qadri said Pakistan was not made for the handful of feudals or industrialists, who have occupied the country and its resources.

"When we point out the corruption of rulers and ask for fundamental rights, corrupt politicians raise hue and cry in the name of democracy," he said. "Is this what you call a democracy? Are these rulers what you call democrats?"

The PAT chief lashed out at parliamentarians for living lavish lifestyle at the expense of the national exchequer and misusing development funds earmarked for people's welfare. "These rulers are violating Articles 62 and 63, and are not fit to be public representatives."

"This is why these so-called parliamentarians are against the revolution… they know their corruption will come to an end," he added.


Published in The Express Tribune, August 22nd, 2014.