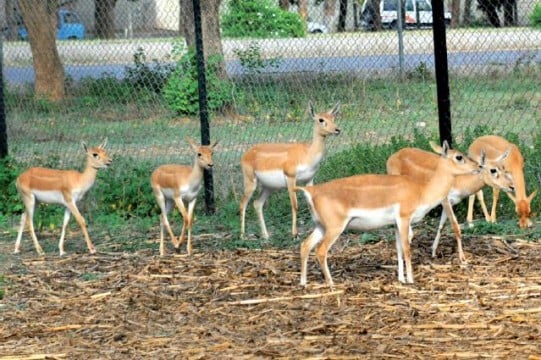 ---
ISLAMABAD: A pair of deer was brought to Islamabad in 1990 and kept in a 500 square feet cage in Sector F-8. Quiet, green and peaceful, the habitat provided to these deer caused little concern to environmentalists back then.

But over the years, bumperto- bumper traffic and commercialism in the capital city forced plans for largescale construction work. As a result, hotels, highways and underpasses were built.

Meanwhile, the deer multiplied to 42, and two new peacocks and a number of quails were also introduced. In 2008, the Ninth Avenue , one of the busiest highways of the capital, opened to public — right next to the cage with the deer. It has been two years but the animals have not been moved to a cleaner, less polluted environment.

"Air and noise pollution is harmful to humans as well as animals,"said Shafqat Kakakhel, former executive director of United Nations Environment Programme.

"The animals would be better off in their natural habitat. The only solution is to relocate them to an environment with less pollution," he added.

Under the Environment Protection Act 1997, the Capital Development Authority (CDA) is required to submit an Environmental Impact Assessment (EIA) report before construction can begin on any site in Islamabad.

However, Director General Pakistan Environmental Protection Agency Asif Shujah said there have been many projects that went forward without the submission of an EIA report by CDA.

A case against the authority was also filed with the Environment Protection Tribunal in Lahore for constructing highways in the city without submitting the report.

The case is still pending. Sajjad Shah, Director of CDA Environment Protection Cell, maintained that environmental assessments were carried out before construction of the Ninth Avenue highway, in line with the Environment Management Plan.

The plan formed by CDA aims to reduce the extent of environmental damage by offering compensation in the form of, for example, planting as many trees as were cut down for a particular development project.

But according to Shujah, CDA came up with the Environment Management Plan after the case against the highways was filed. He said CDA had also decided in a board meeting after the case that no future projects would be carried forward without submitting the EIA report.

Despite repeated attempts, Shah did not clarify whether the Environment Management Plan was conducted before or after the case was brought against them. He said, however, that there were six environmental projects in the pipeline, including one for the animals in the F-8 enclosure.

These projects are monitored by the Pakistan Environmental Protection Agency, he said.