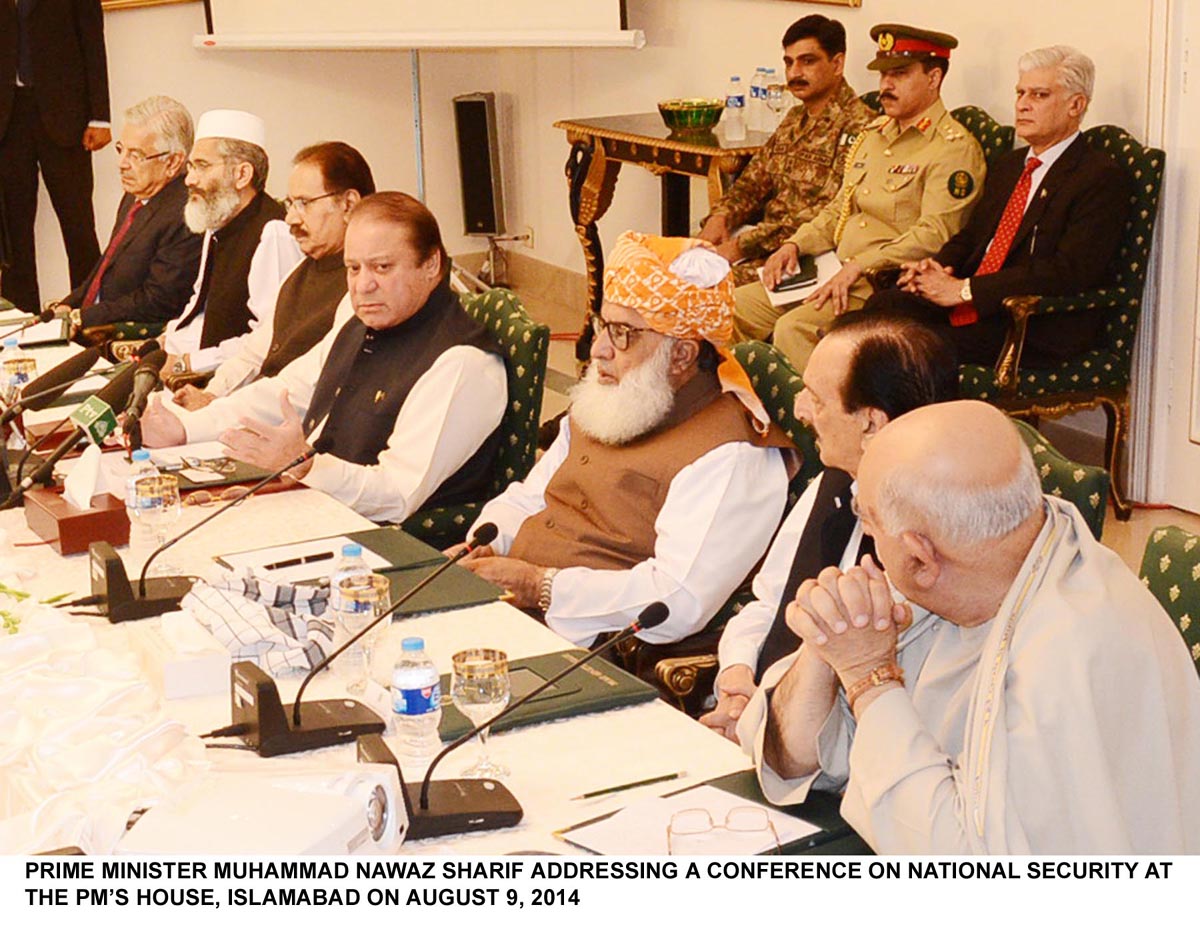 ---
ISLAMABAD:



The government engaged the Pakistan Tehreek-e-Insaf (PTI) and Pakistan Awami Tehreek (PAT) in formal talks following a brainstorming session of the ruling Pakistan Muslim League-Nawaz (PML-N) at the Prime Minister's House.




Prime Minister Nawaz Sharif conferred with his senior aides before deciding to form two separate committees to hold formal talks with the two protesting parties.

One committee, comprising Planning and Development Minister Ahsan Iqbal, SAFRON Minister Lt Gen (retd) Abdul Qadir Baloch, MQM lawmaker Haider Abbas Rizvi and PML-Zia chief Ijazul Haq, was to engage Dr Tahirul Qadri's PAT later in the day.

The second committee, comprising Punjab Governor Chaudhry Muhammad Sarwar, Interior Minister Chaudhry Nisar Ali Khan, Lt Gen (retd) Abdul Qadir Baloch and Ahsan Iqbal, was to talk to a four-member team of the PTI.




Although the PTI and PAT have different sets of demands, they both agree on one point: Prime Minister Nawaz Sharif and Punjab Chief Minister Shahbaz Sharif should resign.

On Monday night, protesters from both camps had entered the Red Zone and it was decided in a meeting headed by the prime minister that the government would not stop them and allow them to hold peaceful sit-ins in front of the Parliament House.

Talking with The Express Tribune on the question of dialogue with the PTI, Adviser to Prime Minister on National Affairs Irfan Siddiqui said that the government was hopeful to find a middle ground. "They [PTI] know it very well that asking for resignation of the prime minister is not an easy demand," he added.

Talking about other demands of the PTI, he said the government had already taken steps and had set up a parliamentary committee for electoral reforms and asked the Supreme Court to constitute a three-member bench to probe into the allegations of rigging in the 2013 elections. "It will be up to the court to either investigate a few selected constituencies or to go for more," he added.

Asked as to what extent the government could go to resolve the ongoing political crisis, he said it would become clear once both the parties started negotiations. "The government wants to resolve all issues amicably. And afterwards, the government will engage the leaders of parliamentary parties in talks with the protesters," he added.

According to the plan, the government side would have several rounds with the protesting parties and then internally in the next 24 hours. Subsequently, the situation would be evaluated and options explored in light of the demands placed by the protesters.

Published in The Express Tribune, August 21st, 2014.