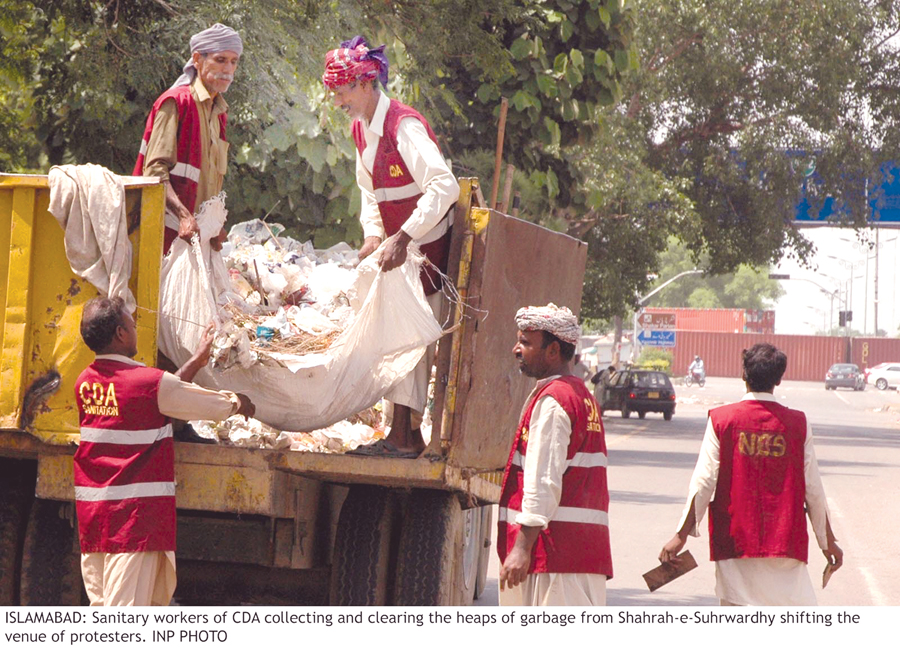 ---
ISLAMABAD: After six days of making it their virtual bedroom, kitchen and bathroom, workers of the Pakistan Awami Tehreek and Pakistan Tehreek-e-Insaf vacated their sit-in sites at Aabpara and Kashmir Highway.

Following their migration to the Red Zone, the Capital Development Authority (CDA) on Wednesday completed a massive cleanup operation and removed waste from Khyaban-e-Suharwardy, Aabpara Road and Kashmir Highway.




Over 200 sanitary workers of CDA participated in the operation, informed CDA Sanitation Deputy Director Shiraz Sami Khan.

Between August 14 and 15, thousands of workers of both parties had descended on the area as part of their anti-government protests.

The CDA official said a special task force was constituted to clean the sites, adding that the operation began at 7am and ended at 2pm.

"More than 20 vehicles, including tractor-trolleys and compactors, were also used in the operation," the official informed. He said a large amount of plastic bags, bottles and sticks, among other waste materials, were removed from the site.  Khan said his staff will remain at D-Chowk and clean the site when the protesters leave.

When asked to compare the cleanup drive to Qadri's sit-in in the capital in January 2013, Khan said amount of waste was almost double in the present protests as the numbers of protesters were higher than before.

The Rose and Jasmine Garden, adjacent to Kashmir Highway, was also adversely affected as protesters had parked their vehicles there.

The civic agency has also decided to make fresh plantations in green belts and the Rose and Jasmine Garden.

CDA Member Environment Syed Mustafain Kazmi said re-plantation would take place at all the green belts and gardens affected due to the marches. "I have personally visited the sites and directed staff to make fresh plantations," he added.




On the other hand, Aabpara traders opened their shops while expressing concerns over the closures.

"My shop was closed for the last five days. I have to pay my utility bills, rent and other expenditure. Who will compensate me," questioned Najeedur Rehman, a trader at the market.

Published in The Express Tribune, August 21st, 2014.
COMMENTS (1)
Comments are moderated and generally will be posted if they are on-topic and not abusive.
For more information, please see our Comments FAQ